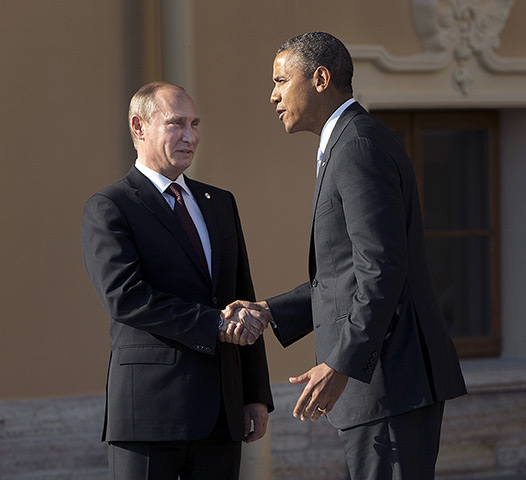 TODAY: G20 begins with awkward greetings, Syria disputes, and a BRIC currency pool plan; proposed law would deprive gays of parental rights; mayoral candidates in home stretch; Golos leader quits Russia; Mail.ru makes hefty Facebook share profit; Rosatom moves into U.K.
All eyes were on President Vladimir Putin as he greeted his U.S. counterpart, Barack Obama, at the opening of the G20 yesterday in 'one of the most closely watched greetings of international diplomacy' (watch the video to decide for yourself).  Bloomberg agrees, adding that the relationship between the two is 'now the worst of any between the nations' two leaders since the fall of communism'.  Disagreements over Syria were brought 'to the heart of the summit' after Putin raised the topic at the welcoming dinner, possibly a bid to expose Obama as having 'no majority support for military strikes on the Assad regime'.  Fresh evidence presented by the U.K., supposedly strengthening claims that Assad used chemical weapons, was 'aggressively dismissed' by Russia at the end of the summit's first day, leading to a denial from Dmitry Peskov that Putin had referred earlier to Britain as 'a small island no one listens to'.  America's ambassador to the United Nations has accused Russia of holding the U.N. Security Council 'hostage' over Syria and 'shirk[ing] its international responsibilities'.  The head of the Kremlin's administration, Sergei Ivanov, said accusations that Russia supplied chemical weapons to Syria were 'hogwash'.  The Washington Post lays down the four main reasons why Russia will not change its Syrian stance.  The BRICs countries agreed to create a $100 billion currency pool between then, with China contributing almost double the offering of the others.
Under a bill submitted by a United Russia lawmaker, 'nontraditional sexual orientation' could become a legal basis for depriving people of parental rights, prompting an indignant response from presidential rights council adviser Mikhail Fedotov: 'Will we deprive left-handed people of their driver's licenses now too?'  Moscow's six mayoral candidates are in their final two days of campaigning before the election on Sunday, as polling numbers for leading candidate Sergei Sobyanin 'consistently above 50 percent and [Alexei] Navalny a distant second'.  Bloomberg is predicting a 62% win for Sobyanin.  Navalny publicly denounced the authorities for 'making desperate attempts to bring down my rating by several percentage points'.  A leader of the independent election watchdog, Golos, has left Russia, citing a lack of state financial support.
Internet group Mail.ru, part owned by Alisher Usmanov, announced that it has sold its remaining shares in Facebook for $525 million – close to a tenfold profit.  LUKoil wants private oil companies to be allowed to drill offshore.  An announcement of an energy deal with China boosted Gazprom's stocks by 6%.  Rosatom is joining forces with European companies to assess whether Russian nuclear reactor technology could meet required regulatory standards that would allow it to be introduced into the U.K. market.  The company has already signed an agreement with the U.K., part of the latter's plan to replace its aging nuclear power plans by 2025.
PHOTO: President Barack Obama shakes hands with Russian President Vladimir Putin during arrivals for the G-20 summit at the Konstantin Palace in St. Petersburg, Russia, Thursday, Sept. 5, 2013. (AP Photo/Pablo Martinez Monsivais/Pool)