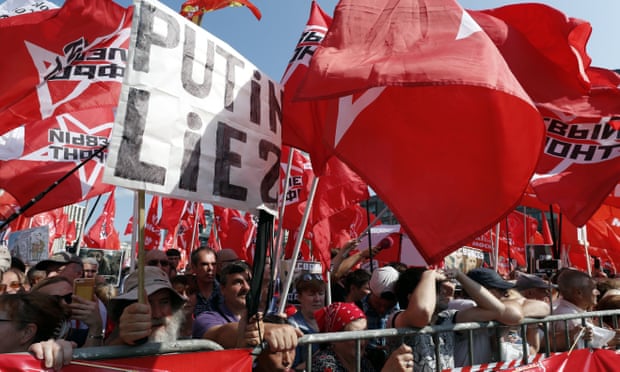 TODAY: Thousands march across Russia against pension reforms; Nord Stream 2 on schedule despite opposition; Vkontakte to give users privacy control; FBI tried to flip Deripaska; Babchenko murder plot coordinator jailed. 
Thousands of protesters joined marches across Russia yesterday in response to the Kremlin's plans to raise the pension age by five years. 10,000 marched across Moscow, 1,500 in St Petersburg, and others in Yekaterinburg, Vladivostok, Samara, and Novosibirsk. President Vladimir Putin attempted to offer concessions to the measures last week, in an address he worked on "by himself", in which he urged support and offered to reduce the planned hike for women from eight years to five years, but "the protests show that the proposed policy remains a politically sensitive issue for the government". Speaking to the crowds gathered in Moscow, Communist Party leader Gennady Zyuganov called the reforms "cannibalistic". This piece argues that Putin's address regarding pension reforms only "betrayed his fear of losing the nation's trust", and points out that the government itself stopped pension fund contributions in 2014 in order to fund the annexation of Crimea. Kremlin spokesman Dmitry Peskov says Putin is an empathic person who "loves people". European investors remain committed to Nord Stream 2, despite wide criticism and the threat of US sanctions, and the pipeline's construction is on schedule. 
Social media network Vkontakte will allow users to make their posts and profiles private, following a spate of extremism prosecutions for social media users. The Guardian reports on one such case, in which a 24-year-old woman is facing six years in prison for posting online memes; the increase in prosecutions may be due to the fact that "extremism is easy to prove with data provided by social networks, and police want to increase the number of successful prosecutions". The FBI allegedly tried (and failed) to turn oligarch Oleg Deripaska into an informant in recent years, hoping to trade information on organised crime for visa and legal support. A Ukrainian man has been jailed for four and a half years for plotting an assassination attempt against journalist Arkady Babchenko, who faked his own death earlier this year.
Ukraine wants to cut ties to the Russian Orthodox Church. Eighteen people were injured when a passenger plane ran off an airport runway outside of Sochi. This striking photo essay documents the lives of elder tribal women in Siberia. 
PHOTO: People attend a protest against a proposed increase of the retirement age in Moscow, Russia, September 2, 2018. (Maxim Shipenkov/EPA)