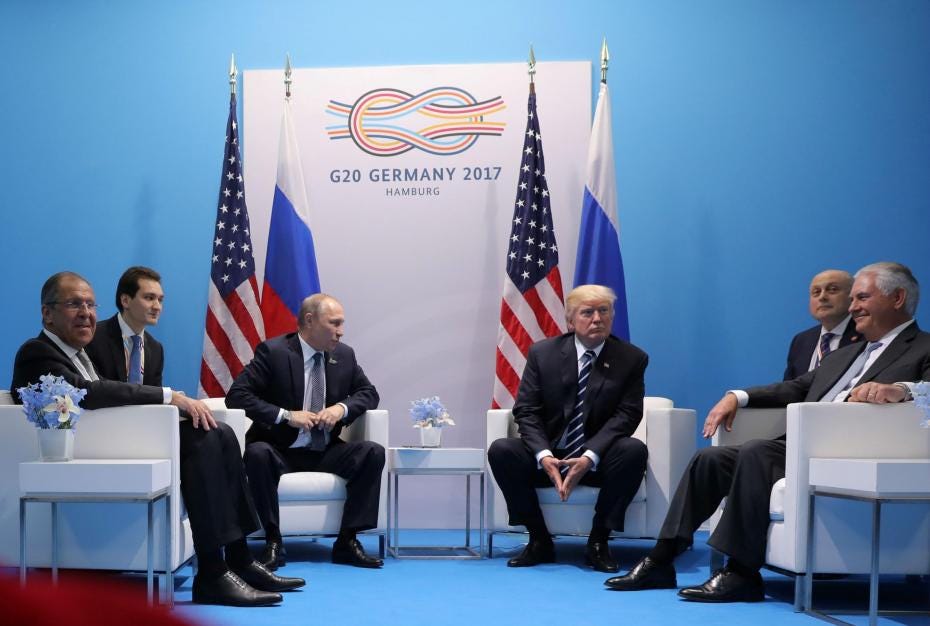 TODAY: Putin and Trump meeting runs over by almost 2 hours, either very friendly or very awkward, depending on source; Trump fails to press Putin on elections, treatment of gay men in Chechnya, treatment of protesters, or the Boris Nemtsov case; ceasefire agreed for Syria; US sanctions to stay in place whilst fighting continues in Ukraine; Trump Jr was to meet with Kremlin-linked lawyer over Clinton info; Navalny released from detention, 130 of his supporters detained; Putin's G20 plane detours to avoid NATO territory; Pokemon blogger sentenced reduced. 
President Vladimir Putin and US President Donald Trump met for over two hours on Friday, well exceeding the original 35 minutes that had been scheduled for their first face-to-face talks (US Secretary of State Rex Tillerson said this was due to "such a level of engagement and exchange, neither one of them wanted to stop") although this analysis of the pair's body language paints a different picture. Topics covered include Syria and Ukraine, North Korea's nuclear program, cybersecurity, and Russia's alleged election meddling. Trump "seemed to agree", said Putin, with his position that the election hacking accusations are unfounded, although Tillerson said on the contrary that the issue "may be an intractable disagreement at this point". The New York Times offers a list of major issues that should have been discussed, but were not, together with this analysis: "[Putin's] fourth American president has given him exactly what he wanted: respect, camaraderie and freedom from criticism." Kremlin spokesman Dmitry Peskov said Trump gave Russia the impression of "a very efficient person" who "uses facts skillfully". The two did not discuss sanctions, according to Trump's Twitter account, but sanctions will remain in place until the situation in Ukraine has resolved. The pair agreed on and implemented a new ceasefire in Syria. Headline of the weekend: Putin Meets Tons of Trumps. Trump's son reportedly agreed to meet with a Kremlin-linked lawyer in 2016 after being promised damaging information about rival Presidential candidate Hillary Clinton.
Opposition leader Alexei Navalny was released from detention over the weekend, promising to continue his work "in the same cheerful manner". Police detained more than 130 supporters of Navalny's presidential campaign over the weekend, including 11 minors. Putin has never spoken Navalny's name, nor will say why he will not say it, beyond making reference to his lack of a "constructive agenda". The Bolshoi Theatre postponed the world premiere of its new ballet Nureyev in the wake of the fraud case opened against its director Kirill Serebrennikov. Russia's economic growth is "obvious", Putin says, and the country is now definitely out of recession. Putin's flight to the G20 summit made a 500km detour to avoid flying over NATO member territories, flight tracker data showed. Peskov praised the G20 summit, dismissing protests as "pure hooliganism". The two airport employees sentenced in connection with the death of former Total oil CEO Christophe de Margerie have been pardoned. The blogger who was given a three year suspended sentence for posting a video of himself playing Pokemon Go in an Orthodox cathedral has had his sentenced reduced.
Artist Ilya Glazunov has died in Moscow aged 87. Internet entrepreneur Anton Nossik, often referred to as the godfather of the Russian Internet, also died over the weekend, aged 51.
PHOTO: President Donald Trump meets with Russia's President Vladimir Putin for the first time. REUTERS/Carlos Barria July 07, 2017