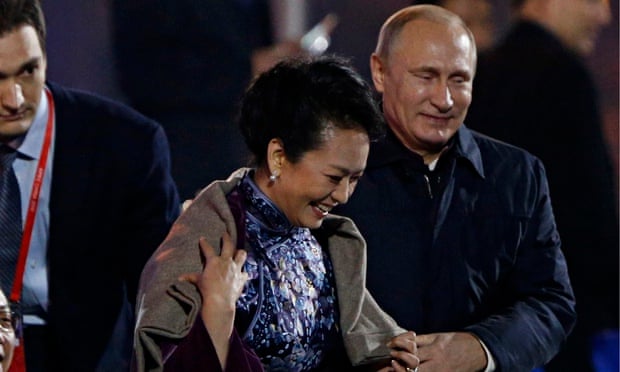 TODAY: Rosatom to build nuclear reactors in Iran; Putin's shawl gesture censored in China; Abbott talks MH17 with Putin; Kremlin snubs ECHR's request for election info; UNESCO site projects to go ahead; New Look pulls out of Russia; South Africa to commence Russian seafood exports; ruble resumes its slide; Olympic construction boss detained; Khimki former mayor charged with fraud.
News that Russia's Rosatom will build two new nuclear reactors in Iran – with the possibility of a further six to follow at a later date – has 'rais[ed] eyebrows' in Europe and the U.S.; the New York Times says the deal shows that Russia has 'its own vision for ensuring that Iran does not build nuclear weapons'.  President Vladimir Putin's 'gallant' gesture of offering China's first lady, Peng Liiyuan, a shawl during a chilly Apec Summit dinner has drawn speculation, particularly after video of the move was deleted from Chinese news websites by censors who found it improper.  Australian Prime Minister Tony Abbott met with Putin on the sidelines of the Beijing summit and asked him to consider issuing an apology for the downing of MH17; various sources have interpreted Putin's minimal interactions with U.S. President Barack Obama during the summit as frosty.  Russian authorities are snubbing the European Court of Human Rights' request for information regarding a vote rigging complaint about the 2011 State Duma elections in St. Petersburg.  German Chancellor Angela Merkel says no further economic sanctions against Russia are currently planned.  Two major construction projects in protected UNESCO areas will go ahead – in the Golden Mountains of Altai and Wrangel Island – despite the threat of sanctions and Greenpeace Russia's assertion that 'once developed, such natural sites never recover'.  British high street fashion chain New Look has pulled out of Russia and Ukraine citing 'political uncertainty'.
South Africa is to resume seafood exports to Russia for the first time in almost 20 years, thanks to Moscow's ban of most Western food imports in August.  The Russian National Association for Genetic Safety (NAGS) is to conduct a $25 million, 3-year experiment to test the safety of GM food.  The ruble resumed its slide yesterday, following the Central Bank's announcement to float the currency.  Olympic construction boss Oleg Shishov has been detained on suspicion of failing to pay employees thousands of dollars worth of wages.  The former mayor of Moscow's Khimki suburb has been charged with fraud and abuse of office.
Georgy Bovt deconstructs the popular myth that Russia has the lowest taxes in the world.  RFE/RL analyses the early output of Russia's new media weapon, Sputnik, saying it provides 'a product that's not so much false as it is selective — and certain to find traction among conservative readers in the West.'  In response to CNN's plans to cease broadcasting on Russian airwaves at the end of the year, the Kremlin says that CNN is not legally prohibited from doing so.
PHOTO: In this Nov. 10, 2014 file photo, Russia's President Vladimir Putin, right, puts a shawl on Peng Liyuan, left, wife of Chinese President Xi Jinping as they arrive to watch a fireworks show after a welcome banquet for the Asia Pacific Economic Cooperation (APEC) summit in Beijing. It was a warm gesture on a chilly night when Vladimir Putin wrapped a shawl around the wife of Xi Jinping while the Chinese president chatted with Barack Obama. The only problem: Putin came off looking gallant, the Chinese summit host gauche and inattentive. (AP Photo, File)