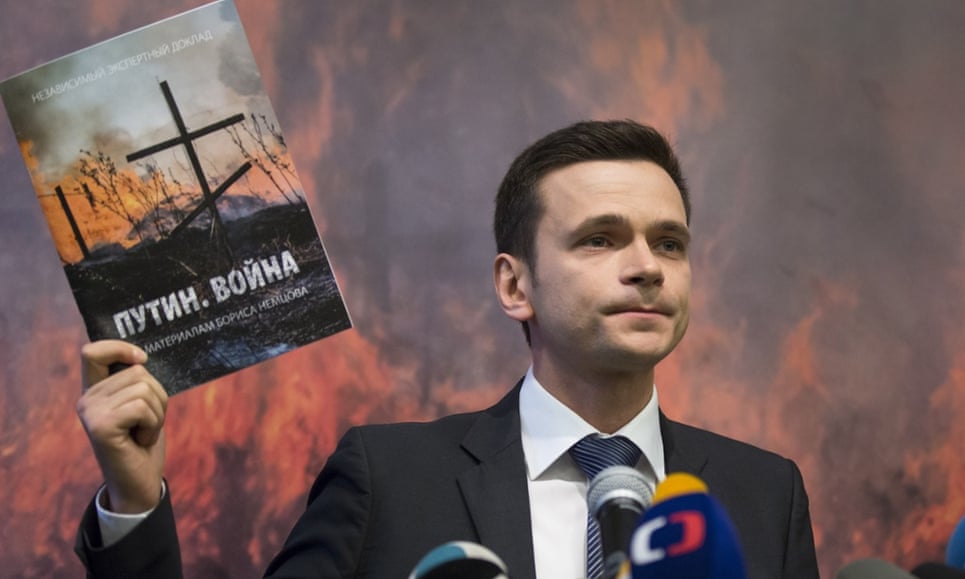 TODAY: Nemtsov's posthumous Ukraine report published, revealing details of Kremlin involvement in war, Peskov says hasn't seen it; U.S. Secretary of State in friendly but inconclusive talks with Putin and Lavrov; Merkel censored by translator; new Russia rail deal for China; state-run bank to pay accused spy's legal fees; Swedes have novel ideas for putting off Russian navy.
Boris Nemtsov's 65-page Ukraine report, completed posthumously by his colleague Ilya Yashin, says that at least 220 Russian soldiers have been killed since the beginning of the fighting in eastern Ukraine last year. It also says that the secret war has thus far cost over 50 billion rubles, that soldiers are paid roughly three times the average Russian salary to travel to fight there, and that soldiers' family members were bribed to prevent them speaking publicly about deaths.  According to Mikhail Kasyanov, who led the Parnas party with Nemstov, said the aim of the report was not to sensationalise, but rather to allow Russian citizens to step outside of rampant media propaganda, 'put everything together to understand the war in Ukraine and to make their own choice'.  RFE/RL summarises the report into nine key allegations, including that the annexation of Crimea and interference in Ukraine were planned in detail in advance.  When asked to comment, Vladimir Putin's presidential spokesman, Dmitry Peskov, said he was 'not familiar' with the report.  Only 2,000 copies will be distributed, said Yashin, citing the difficulty of spreading the information and the unwillingness of publishers who are 'afraid' to work with the material.  U.S. Secretary of State John Kerry met for over four hours each with Putin and Foreign Minister Sergei Lavrov, showing a willingness on both sides to improve relations, and some verbal concessions: a Foreign Ministry statement released after the meetings said that the U.S. was not to blame for the poor state of current relations, and that it is ready to cooperate on sanctions on an equal footing.  Kremlin adviser Yuri Ushakov said the talks yielded no major breakthroughs.
A Levada Center poll indicates that Russians are increasingly wary of U.S. intentions, with 59% saying they believe that America poses a threat.  German Chancellor Angela Merkel's most stinging criticism of Russia was omitted in real-time by an official interpreter at a Kremlin press conference, who left out Merkel's description of the annexation of Crimea as a 'criminal' act: 'Those listening exclusively to the interpreter were given the impression that Merkel considers the takeover of Crimea only a "violation of international law."'  The Culture Ministry is to cut internal expenditures by 30%.  Russian-owned bank Vnesheconombank will pay the legal fees for banker Evgeny Buryakov, charged in New York with participating in a Russian spy ring.
China Railway Group won a $390 million contract to build a high-speed railway line connecting Moscow and Kazan.  Putin's partnership with Xi Jinping is spurred more by necessity than shared interests, says the WSJ, noting that a $400 billion supply deal signed last May is still being 'haggled' over.  A Swedish organisation has suggested that the country send gay propaganda via Morse code to keep the Russian navy out of its waters.
PHOTO: Ilya Yashin holds a report based on work carried out by Russian opposition leader Boris Nemtsov before he was killed. (Alexander Zemlianichenko/AP)