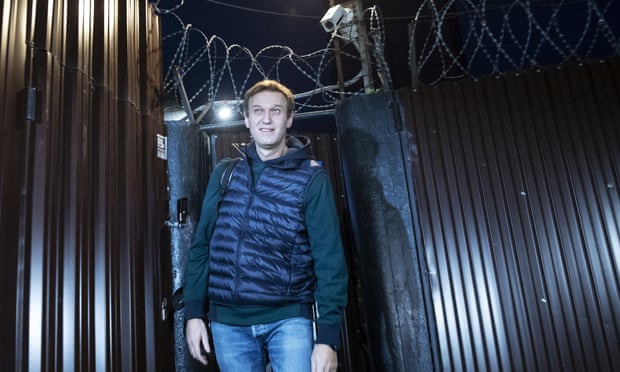 TODAY: Navalny released from prison; Roscosmos failed to report Soyuz mission failure; Communist candidate blocked by opposition in Siberia; labour chief fired over pension comments; Orthodox leaders meet in Minsk to discuss Ukraine split; Trump on Putin as an assassin; former Armenian President and Putin ally returning to politics.
Opposition leader Alexei Navalny has been released from prison after a second back-to-back term of three weeks, following his initial stay of 30 days, for organising anti-Kremlin protests in the wake of recent pension reforms. "If anyone thinks that with arrests…they can scare or stop us, that is clearly not the case," he said; he also referenced the failed launch of the Soyuz spacecraft last week as "evidence that this regime has conclusively degraded" since his sentence began. Roscosmos failed to contact the press regarding the failed mission last week, instead allowing the news to reach Russian citizens via NASA, prompting the Daily Beast to reflect on a pattern of Russia's embarrassment regarding public failures. Popular Communist candidate Valentin Konovalov would be elected governor of Siberia if his opponents would stop putting off the vote. Natalya Sokolova, Saratov's labour chief, has been fired after insisting that a $53 pension is enough for retirees to live on (the minimum subsistence level in Russia is $200).
Russian Orthodox Church leaders are meeting in Minsk today over the Ukrainian Church's bid for independence. Writing about the impending Orthodox split between Russia and Ukraine, Leonid Bershidsky explains why "it's as difficult for Putin as it is for Moscow Patriarch Kirill to accept an independent Ukrainian church blessed by Constantinople". This piece says Orthodox Russian businessmen and officials have "played a role in fomenting the conflict", which has intensified since 2014 when Russia's orthodoxy failed to condemn bloodshed in eastern Ukraine. The Kiev administration is painting the split as "part of a broader pattern of global intervention that had isolated Mr Putin," says the FT; the Guardian argues that "the potential for further violence is real".
US President Trump, asked whether or not Putin is involved in assassinations and poisonings, replied, "probably he is, yeah […] but I rely on them; it's not in our country".  Robert Kocharyan, the former Armenian President who is a close ally of Vladimir Putin, is retuning to politics.
PHOTO: Alexei Navalny leaves a detention centre near Moscow after serving a three-week sentence. Photograph: Pavel Golovkin/AP