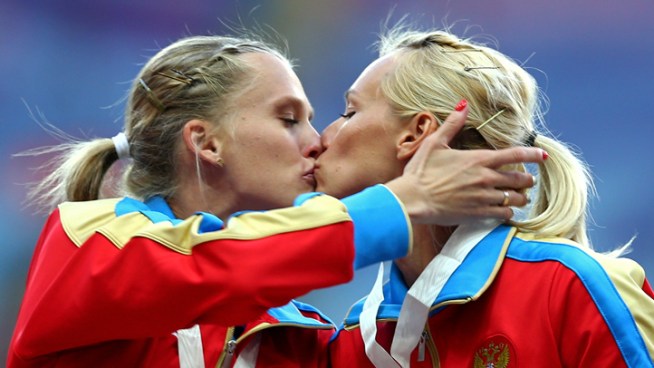 TODAY: High-level talks planned with Ukraine over trade war; Navalny continues his mayoral campaign; gay rights furore continues as World Athletics Championships close; half of invested money landing in Virgin Islands; 'worst ever' floods affect five regions.
Prime Minister Dmitry Medvedev has consulted with his Ukrainian counterpart and scheduled talks to address current trade problems, after Ukraine responded to tighter import regulations by banning Russian wheat.  An adviser to President Vladimir Putin indicated that Russia would press for Ukraine to back off from making a free trade deal with the E.U.  The Guardian profiles Alexei Navalny as he continues his campaign to become Moscow Mayor, throughout the course of which, he estimates, he will have met 1% of Moscow's electorate face-to-face.  The anti-corruption blogger says he will not participate in any more debates in connection with the election unless they are broadcast by major media outlets, instead of small television channels.  This piece picks apart Navalny's allegedly 'risky fundraising methods'.  Vladimir Frolov says that Navalny has successfully tarnished the reputation of his main opponent, Sergei Sobyanin.  Veteran rights activist Lyudmila Alexeyeva gets a profile in the New York Times.
The 2013 World Athletics Championships ended with a full stadium, a positive indicator for next year's Sochi Olympics, but if this month's media uproar is anything to go by, 'the controversy over gay rights will be in direct competition with actual sports in terms of what will dominate the agenda'.  Sports minister Vitaly Mutko says that all the controversy, which stems from Russia's newly adopted anti 'gay propaganda' law, is an 'invented problem',  insisting that Russia does not have 'a law to ban non-traditional sexual relations' (the 'gay propaganda' law imposes fines on those seen to be openly supporting the LGBT community).  Pole vaulting medalist Yelena Isinbayeva back-tracked on earlier remarks about Russia's anti-gay laws, saying that she was misunderstood. 'What I wanted to say was that people should respect the laws of other countries particularly when they are guests […] I am opposed to any discrimination against gay people on the grounds of their sexuality.'
Central Bank figures indicate that almost half of the $67 billion invested abroad by Russians in the first quarter was directed into the British Virgin Islands, after the banking crisis in Cyprus created a need for a new tax haven.  Rostelecom has launched a $909 million share buyback for 30% of the shares held by minority investors.  Record floods in the Far East have affected over 35,000 people.  Five regions have declared a state of emergency, and the weather center has called it the largest-scale flood in Russian history.  Eight 'Pastafarians' were detained in Moscow over the weekend for taking part in a 'pasta procession'.  Pussy Riot: one year on from their incarceration, Nadezhda Tolokonnikova and Maria Alyokhina are still unable to see their children.
PHOTO: Gold medalist Tatyana Firova (L) and Kseniya Ryzhova of Russia kiss on the podium during the medal ceremony for the Women's 4×400 metres Relay during Day Eight of the 14th IAAF World Athletics Championships Moscow 2013 at Luzhniki Stadium on August 17, 2013 in Moscow, Russia. (Getty Images)