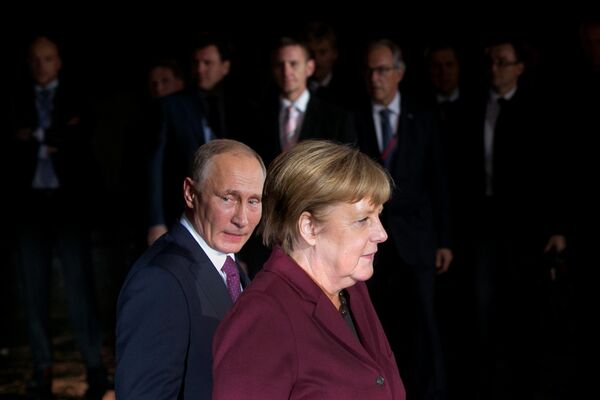 TODAY: Putin, Merkel, and Hollande hold 7-hour meeting in Berlin; Kirill urges global 'holy war'; Baltic military spending to triple in four years on Russia fears; Mutko promoted to deputy PM; Nabiullina tackles problem of bandit banks; Kremlin to cut maternal healthcare budget.
During their seven-hour meeting in Berlin yesterday to discuss the conflicts in Ukraine and Syria, President Vladimir Putin was apparently confronted with 'blunt language' by German Chancellor Angela Merkel and French President Francois Hollande, leading Putin to say that the bombing would continue as long as 'terrorist' forces are still active. (During a visit to the UK yesterday, Patriarch Kirill reinforced the Russian message by calling for a global 'holy war' on terror.) A fleet of Russian warships off the coast of Norway are carrying fighter bombers thought to be planning to make a final attack on Aleppo in two weeks.  The Berlin meeting also addressed the question of Ukraine, with all parties agreeing to draw up a road map for implementation of the ceasefire deal; Putin still wants the Minsk agreement to be the basis for a resolution.  Combined arms spending in Lithuania, Latvia and Estonia has almost doubled since the invasion of Crimea (to $390 million), and is expected to double yet again by 2018 due to growing alarm over Russia's 'military assertiveness'.  Russia has no plans to abandon production of a cruise missile that the US says violates a 1987 nuclear arms control agreement.
Sports Minister Vitaly Mutko has been replaced with his deputy by Vladimir Putin, possibly in a bid to clean up Russian sport's image in advance of the 2018 World Cup; Mutko has been promoted to the role of deputy prime minister, under which he will be responsible for sport, tourism, and youth policy; Putin signed a quick decree to increase the number of deputies from eight to nine to accommodate Mutko.  An independent, public anti-doping commission will investigate doping control in Russia from 2010-2015.  Since taking up her role as the governor of the central bank, Elvira Nabiullina has drastically reduced the number of Russian banks that, she says, were involved in dubious transactions, and has shut down 276 banks altogether; Putin has praised her efforts to combat 'banditry'.
The government is planning to cut spending for mother and child heathcare next year, slashing the previous budget allocation by more than half.  Deputy Foreign Minister Sergei Ryabkov is threatening 'asymmetrical' and 'painful' measures against the US if it extends its existing sanctions against Russia.
PHOTO: Merkel and Putin meet in Berlin on Oct. 19. Photographer: Krisztian Bocsi/Bloomberg