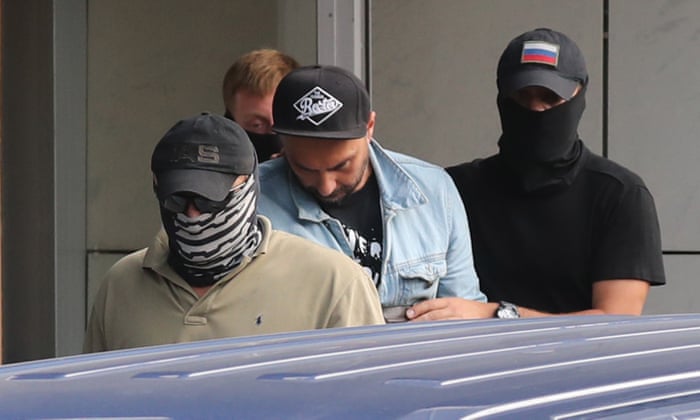 TODAY: Liberal theatre director Serebrennikov detained, accused of fraud; Bolotnaya Square prisoner held in solitary ahead of release; activist declared political prisoner over pretrial detention; media outlets fined for reposting rap battle; Indonesia to spend $1.14bn on Russian jets; Moscow announces fifth demolition wave; Merkel slams Schröder's Rosneft job.
Prominent theatre director Kirill Serebrennikov has been detained, accused of embezzling $1.46 million in state funds earmarked for an art project. The arts world is reportedly concerned that this news is part of a wider crackdown on Russian dissent, because Serebrennikov is known for his progressive, experimental theatre. Ivan Nepomnyashchikh, who is due to be released from prison in Yaroslavl after serving a 30-month sentence for taking part in the Bolotnaya Square protests in 2012, is allegedly being held in solitary confinement in advance of his release. Rights group Memorial says that activist Dmitry Borisov, who has been in pretrial detention since June over his involvement in March antigovernment protests, is a political prisoner. Roskomnadzor will fine six news outlets for sharing the Youtube video of a profane rap battle. St Petersburg city officials have stripped a popular public gathering space from its list of free assembly zones, following a nationalist attack on an LGBT protest earlier this month.
Indonesia is to buy 11 Sukhoi fighter jets from Russia over the next two years, at a cost of $1.14 billion. Forbes has compiled some 'need to know' facts about the Russian takeover of India's Essar Oil, including: "This is a major bet by the Russians against the promise of electric vehicles to transform energy markets in the coming decades." The Finance Ministry says Russia has finally repaid the last of its Soviet-era debt, with a final payment of $125 million to Bosnia and Herzegovina. The City of Moscow has published a fifth wave list of buildings to be bulldozed as part of the controversial urban renewal scheme that has already targeted hundreds of buildings in the city. In joint telephone talks, the leaders of Russia, Ukraine, France and Germany "decisively" supported a proposed ceasefire in eastern Ukraine before the end of this year. German Chancellor Angela Merkel has slammed her predecessor, Gerhard Schröder, following the news that he has taken a job with oil giant Rosneft.
A Russian state television anchor was fooled by a piece of fake news alleging a secret British plan to take down Russia. Activists are warning that Russia faces a dramatic rise in deaths from AIDS due to the Kremlin's failure to stop the spread of HIV (budgeting just $297 million for treatment of over 900,000 infected people). Aleksandr Solzhenitsyn's cycle of novels about the Russian Revolution is to be published in English for the first time, thanks to a grant from an anonymous donor.
PHOTO: Kirill Serebrennikov (centre) outside the Russian investigative committee building on Tuesday. Photograph: Vyacheslav Prokofyev/TASS