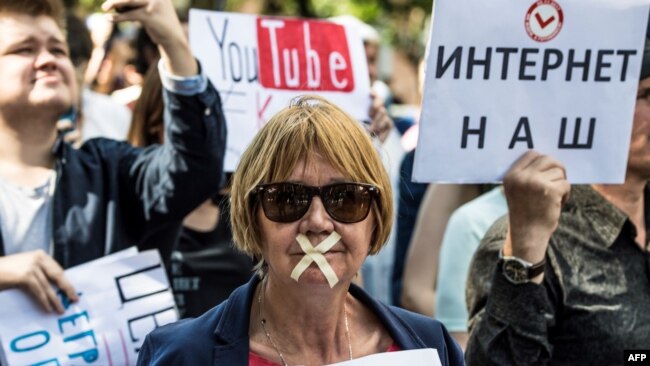 TODAY: Russia tops Google's global Transparency Report on requests for removal of online content; hundreds gather in Moscow to protest Internet censorship; Duma passes reading that would prohibit use of virtual private networks; Nemtsov's daughter wants his murder reclassified; Putin has not yet decided whether to remain President, amidst discussion of complete lack of alternatives; US special envoy says Russia to blame for Ukraine "hot war". 
According to Google's latest Transparency Report, Russia's government made more than half of the total number of requests to have online content removed or blocked by all other countries' governments combined. Russian requests for content to be removed spiked in the second half of 2016; Google complied with 74% of the requests. Hundreds of protesters gathered in Moscow yesterday to rally against Internet censorship and social-network-related convictions, and to demand that Aleksandr Zharov, the head of Roskomnadzor, be sacked. Activists say the government is targeting legitimate dissent under the umbrella of extremism. The rally happened two days after the Duma's lower house passed a bill that would prohibit the use of virtual private networks and anonymous mobile messaging services. The daughter of Boris Nemtsov, the opposition leader who was murdered outside the Kremlin in 2015, is asking the court to annul the sentences of his killers so that the crime can be reclassified from a contract killing to the murder of a "state or public figure".
When asked what he would do after leaving his post as President, Vladimir Putin said he has not yet decided whether or not he will leave the post, and that he needs to answer the question "for himself" before he can think about plans. Whether or not he will run for re-election next year, he promised that there would be no further changes to the constitution that would allow him to run indefinitely. "Do I need to continue my work in this capacity – I haven't decided yet," he said. In the same Q&A session (at a children's school), Putin also revealed his code name at intelligence school – Platov. Bloomberg analyses last week's debate between opposition leader Alexei Navalny and retired nationalist officer Igor Girkin, arguing that "No Russian political leader is offering a vision ambitious and inspiring enough to compete with Putin". A wristwatch which allegedly used to belong to Putin was sold at auction for over 1 million Euros.
A US special envoy to Ukraine peace talks says Russia's aggression is to blame for the current and still deadly situation in eastern Ukraine. "This is not a frozen conflict, this is a hot war, and it's an immediate crisis that we all need to address as quickly as possible." US President Donald Trump is reportedly open to toughening existing anti-Russia sanctions. Russian ambassador to Washington, Sergei Kislyak, is officially leaving his post. In a symbolic statement approved by its parliament, Moldova demanded that Russia withdraw its troops from the separatist region of Trans-Dniester. Germany warned Russia that its breaches of sanctions, such as the relocation to Crimea of four Siemens' gas turbines, are straining political ties.
PHOTO: Protesters at the March for Free Internet in central Moscow on July 23, 2017 (AFP)