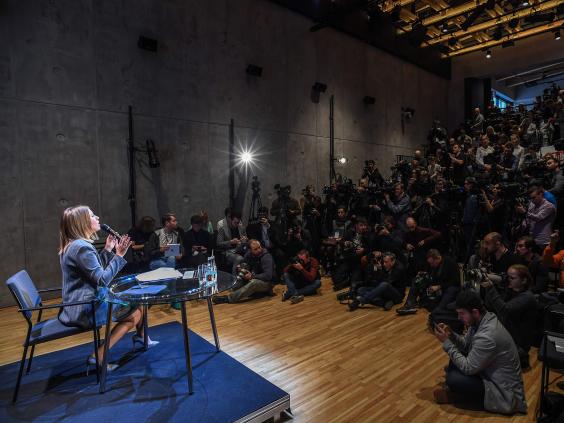 TODAY: Russia vetoes chemical weapons resolution; Putin moves to regulate, possibly ban, bitcoin; Russia is China's top crude supplier; NotPetya strikes again with BadRabbit; Sobchak gives press conference about presidential bid, declines to criticise Putin; Felgengauer out of coma.
Russia has used its veto on a United Nations resolution that sought to determine who was responsible for chemical weapons attacks in Syria, and Foreign Ministry spokeswoman Maria Zakharova said Western countries are responsible for "directly and indirectly supplying militants" with toxic substances. President Vladimir Putin has ordered the Kremlin to devise a regulatory framework for cryptocurrencies like bitcoin, in what the FT calls "the clearest sign yet that the Kremlin intends not to ban them." The head of VTB says Russia's interest in bitcoin has been overblown by the media, and that the speculation about Russian investors buying it has increased interest, but little actual uptake. Putin made a swift exit from the VTB Capital Forum in Moscow yesterday, surprising guests who were expecting him to take questions, as he has done every year prior. One Swedish fund manager had an explanation: "The higher the oil price and the more stable the economy, the less time Putin has to spend on promoting Russia." Russia is China's biggest crude oil supplier, for the seventh month running. CEFC China Energy is in talks with VTB to raise $5 billion to finance its acquisition of a stake in Rosneft.
An aftershock of this year's NotPetya ransomware attack struck yesterday – dubbed BadRabbit, it hit hundreds of computers yesterday, mostly in Russia. Critical infrastructure operators were infected very quickly, including airlines and metro systems. Interfax was also affected. Socialite and journalist Ksenia Sobchak gave her first press conference since announcing that she will run for President next year. She promised to be a voice for her generation, and called on the release of all political prisoners. Her most un-Kremlin line was on Ukraine, which she called "Russia's most important partner". She also promised to withdraw her candidacy if Navalny is allowed to compete (he isn't) in order to prove that she is not a "spoiler" candidate. She said she would not criticise Putin, because he saved her father's life. "But it doesn't mean that I like everything he does as a politician." Sobchak still has to collet 300,000 signatures from at least 40 Russian regions before she will be an official candidate.
Ekho Moskvy program host Tatyana Felgengauer is now out of her coma, after being stabbed in the neck by a mentally disturbed man. Kremlin spokesman Dmitry Peskov says it is "illogical" to draw broad conclusions from the attack, given that her assailant is "a madman", but the Editor in Chief of Ekho Moskvy says the political atmosphere must be taken into account, and argued that "when psychos attack journalists there's not a great effort to catch them", citing the case of Yulia Latynina.  Members of Pussy Riot held a protest at the New York City Trump Tower in support of jailed Ukrainian filmmaker Oleh Sentsov, currently serving a 20-year term in Russia after being arrested in Crimea in 2014.
PHOTO: Ksenia Sobchak speaks during her packed news conference at the Stanislavsky Electrotheatre in Moscow (AFP/Getty)