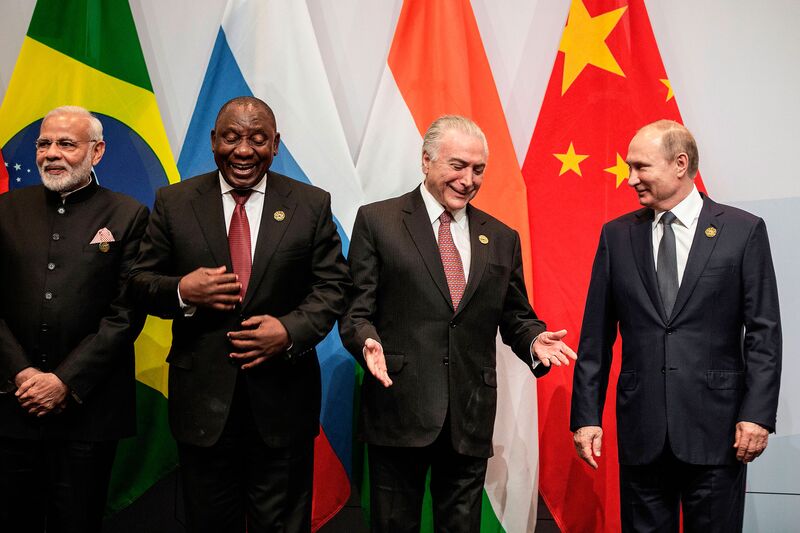 TODAY: Russia seeks better BRICS business, discusses nuclear with South Africa; BRICS reaffirm support for open world economy; sixth prison guard detained over Yaroslavl torture; Foreign Ministry demands release of "political prisoner" Butina; aerospace exec charged with embezzlement; Investigative Committee deputy jailed; US allows countries to get around Russia sanctions.
President Vladimir Putin told the BRICS countries that he is seeking better business, trade and investment ties between members, in a bid to top last year's $102 billion trade turnover with BRICS partners. The meeting broached the topic of a referendum in eastern Ukraine, but it was not discussed in any great detail. Putin discussed the possibility of a nuclear deal at a private meeting on the sidelines with the South African president; the latter said that, although he is interested, he could not sign such a deal at present. In closing, all five BRICS members reaffirmed their support for an "open world economy" based on WTO principles. A sixth prison guard has been detained in connection with the torture of Yaroslavl prisoner Yevgeny Makarov, caught on video and distributed amongst the press. Russia has vowed to prosecute anyone found to have taken part in prisoner abuse, but the United Nations is unsatisfied, as Russia gave no details of the legal action taken. "The conclusion here is that the Russian Federation is unable to explain how it prosecutes torture. This is simply not good enough." The Foreign Ministry says Maria Butina, the woman held in the US on charges of spying, is a political prisoner who must be released immediately. RFE/RL charts the history of Butina's pro-gun rallying. 
The CEO of aerospace firm Lavochkin Research and Production Association, and two of his colleagues, have been charged with embezzling $5 million over two years from state firm Roscosmos through the signing of fake agreements. Alexander Lamonov,the deputy head of security at the Investigative Committee, has been given a 5-year jail sentence for accepting a mafia bribe. The new head of the Duma's Culture Committee is a Stalinist. This piece charts the history of Russia's pensions system and the challenges faced by Vladimir Putin in his efforts to reform it. Could Russia's public siding with Donald Trump backfire?
The US has created legislation that allows countries to avoid sanctions penalties when purchasing weapons from Russian defence companies, as long as they are seeking closer ties with Washington. This Washington Post piece claims that Russia's contemporary intelligence services are multiplatform, quick, and devastating, including a resurgent GRU and "a faster, quick-kill approach". A US Democrat says Russian hackers from the GRU tried to infiltrate her Senate compute network. 
PHOTO: Modi, Ramaphosa, Temer and Putin at the BRICS meeting. (Gianaluigi Guerica/AFP)