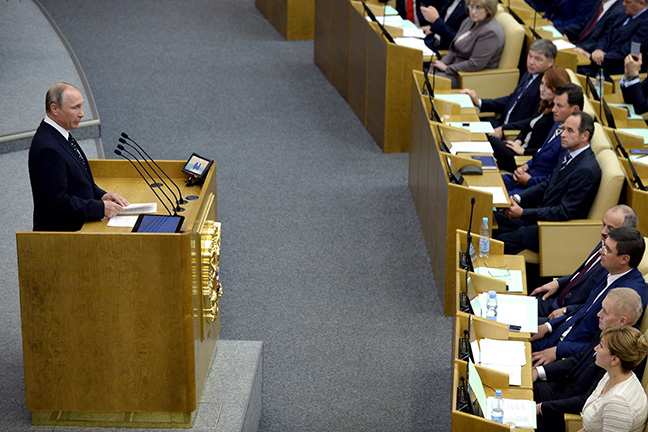 TODAY: Tenth anniversary of the murder of journalist Anna Politkovskaya; Novaya Gazeta nominated for Nobel Peace Prize; Supreme Court annuls arrest records of Bolotnaya Square protesters; Putin swaps roles for Rosatom head; Russia annuls nuclear research agreement with US; Aleppo onslaught carefully timed, analysts say; Ukraine warns citizens not to visit Russia.
Tomorrow marks the tenth anniversary of the murder of investigative journalist Anna Politkovskaya, who was gunned down in her apartment building, as remembered by the daughter of Politkovskaya's close friend Natalia Estemirova, who was also murdered for her work at the human rights group Memorial.  This piece marks Politkovskaya's death as the beginning of the end for the independent press in Russia.  Novaya Gazeta, the newspaper that Politkovskaya wrote for, has been nominated for this year's Nobel Peace Prize, together with migration rights activist Svetlana Gannushkina.  Russia's Supreme Court has annulled the arrest records of two demonstrators detained at the Bolotnaya Square protests in 2012, following the European Court of Human Rights ruling that the arrests were illegal.  During his speech at the newly elected State Duma, President Vladimir Putin discussed the importance of unity to political power, and said Russia's position on the world stage depended on strong security and defence capabilities.  Putin has promoted the head of Rosatom, Sergei Kiriyenko, to be his new domestic policy strategist, replacing Vyacheslav Volodin, who takes up a post as speaker of the Duma's lower house.  Putin's deputy economy minister, Alexei Likhachev, will be the new head of Rosatom.  The Interior Minister says state contracts are currently the most corrupt area of Russia's economy.
Russia has suspended another agreement with the United States, this time on cooperation in nuclear and energy-related scientific research and development, signed in 2013.  As US President Barack Obama's rule wanes, Vladimir Putin has 'a prime window of opportunity' in which to expand Bashar al-Assad's hold on power in Syria, according to analysts and officials, who say that the recent brutal onslaught on Aleppo was timed so that the ensuing order of rule will be difficult for the new US president to challenge.  This piece notes that the bombing of Syria is pushing increasing numbers of refugees into the European Union and thereby fostering the anti-immigration backlash that is helping right-wing nationalist parties gain power.  Kremlin spokesman Dmitry Peskov says Russia regrets the way that it has become embroiled in the US election campaign.  Russia and Japan appear to be moving closer to resolving their long-term dispute over the Kuril Islands, mainly because Russia, hit by Western sanctions, needs Japanese investment.  In a further breakdown of relations, Ukraine is warning its citizens that they risk being harassed and detained if they travel to Russia.
Russian scientists believe that Crimea is moving towards Russia. As in, tectonically.
PHOTO: Putin speaks at the newly elected State Duma on October 5, 2016. Photographer: Natalia Kolesnikova/AFP via Getty Images