Not only have prosecutors deliberately and repeatedly misinformed the media regarding the details of the Stephan Templ case, but diplomatic staff including the Austrian Ministry of Foreign Affairs have also issued false statements distorting the court record.
TODAY: Kiev preparing for combat, Nato commander says troops flowing across Russian-Ukraine border, U.N. and O.S.C.E. anticipate full-scale fighting; Defence Ministry denies claims; China's energy billions boosting Russian bravado? Ukraine will have to buy Russian coal for winter; Memorial court hearing later today; independent news editor detained.
Kiev says it is preparing its forces for combat with Russia after Nato's top commander, General Philip Breedlove, revealed that Russian military equipment and combat troops have been entering Ukraine continually this week, and urged Russia to pull back its troops.  Breedlove made various statements confirming that the scope and aim of the Russian incursion is unclear, but the O.S.C.E. says the current ceasefire now exists 'more and more on paper' and is anticipating 'open confrontation'. The United Nations Security Council, too, is warning of possible 'full-scale fighting'; it met for its 26th meeting on Ukraine yesterday.  Russia's Defence Ministry sardonically denied Nato's claims: 'We have already stopped taking note of the unfounded statements by Nato's supreme allied commander in Europe.'  This piece says Russia's daring is thanks to 'billions in new energy deals from Beijing'; another says China's partnership with Russia will effectively 'bail out' the latter's oil industry, citing a deal under which China's National Petroleum Corp will buy a 10% stake in a Siberian unit of cash-strapped Rosneft.  However, Vladimir Yakunin, a close ally of Vladimir Putin, says Asia cannot replace the West as a source of financing, and that Russia needs to keep pursuing integration with Europe.  Ukraine will have to buy coal from Russia to get through the winter because conflict in its eastern regions has disrupted supplies.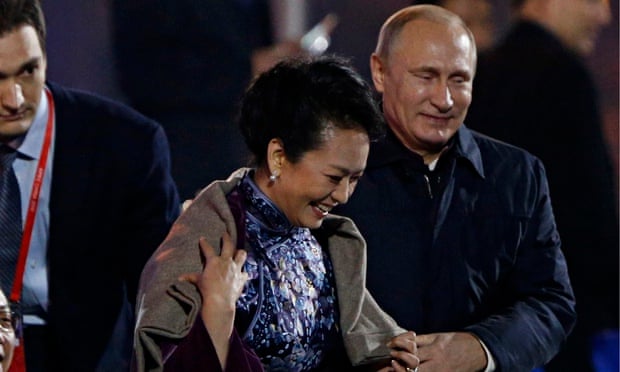 TODAY: Rosatom to build nuclear reactors in Iran; Putin's shawl gesture censored in China; Abbott talks MH17 with Putin; Kremlin snubs ECHR's request for election info; UNESCO site projects to go ahead; New Look pulls out of Russia; South Africa to commence Russian seafood exports; ruble resumes its slide; Olympic construction boss detained; Khimki former mayor charged with fraud.
News that Russia's Rosatom will build two new nuclear reactors in Iran – with the possibility of a further six to follow at a later date – has 'rais[ed] eyebrows' in Europe and the U.S.; the New York Times says the deal shows that Russia has 'its own vision for ensuring that Iran does not build nuclear weapons'.  President Vladimir Putin's 'gallant' gesture of offering China's first lady, Peng Liiyuan, a shawl during a chilly Apec Summit dinner has drawn speculation, particularly after video of the move was deleted from Chinese news websites by censors who found it improper.  Australian Prime Minister Tony Abbott met with Putin on the sidelines of the Beijing summit and asked him to consider issuing an apology for the downing of MH17; various sources have interpreted Putin's minimal interactions with U.S. President Barack Obama during the summit as frosty.  Russian authorities are snubbing the European Court of Human Rights' request for information regarding a vote rigging complaint about the 2011 State Duma elections in St. Petersburg.  German Chancellor Angela Merkel says no further economic sanctions against Russia are currently planned.  Two major construction projects in protected UNESCO areas will go ahead – in the Golden Mountains of Altai and Wrangel Island – despite the threat of sanctions and Greenpeace Russia's assertion that 'once developed, such natural sites never recover'.  British high street fashion chain New Look has pulled out of Russia and Ukraine citing 'political uncertainty'.
TODAY: New international media outlet launches; RT threatened with sanctions in U.K. for breaching impartiality rules; Kommersant editor resigns amidst Rosneft spat rumours; CNN to stop broadcasting in Russia; weekly magazine fined; Central Bank floats ruble, causing gains; VTB considering a move to China's stock exchange; Putin encounters Obama.
Dmitry Kiselyov's Rossia Segodnya launched Sputnik yesterday, a new media organisation employing hundreds of journalists in news hubs in over 30 countries.  The new agency is tasked with rescuing Russia's image from the damage done by what Kiselyov sees as 'aggressive [Western] propaganda' and a global media landscape dominated by Western influence.  (This New Yorker profile of Kiselyov from earlier in the year may be of interest.)  Sputnik will get $140 million in funding from the Kremlin next year. The Wall Street Journal has noted the 'U.S.-bashing columns' on Sputnik's new website, which replaces the former hub of RIA Novosti; the American edition has already claimed that Miami may secede from Florida.  Russia's other state funded news organisation, Russia Today, has been threatened with statutory sanctions by the U.K.'s media watchdog Ofcom for breaching impartiality regulations in its coverage of fighting in Ukraine.  Mikhail Mikhailin, editor-in-chief of the Kommersant daily newspaper, has resigned his post after four years, in the wake of a contested story about Rosneft preparing retaliatory measures to help the economy survive Western sanctions. The paper says there is no link, despite wide speculation that Mikhailin was forced to resign.  Under the new law limiting foreign ownership of Russian media companies, the CNN news channel announced it will stop broadcasting in Russia at the end of this year.  Weekly magazine Russky Reportyor will have to pay a fine after receiving a warning from Roskomnadzor for publishing an expletive.
Tagged Alexei Kudrin, APEC Summit, Barack Obama, Central Bank, China, China Development Bank, Dmitry Kiselyov, Kommersant, Mikhail Mikhailin, Ofcom, Ria-Novosti, Roskomnadzor, ruble, Russia, Russia Today, Russky Reportyor, Sputnik, VEB, Vnesheconombank, VTB, Wellbeing Fund, yuan
Comments closed
TODAY: Gorbachev says world on brink of new Cold War, European report agrees; Russia and U.S. to trade Ukraine info as shelling in Donetsk resumes; Putin and Japanese PM vow to restore ties; Russia and China ink new energy accords; National Welfare Fund may prop up banks; gay marriage controversy in St. Petersburg.
Speaking at a celebration of the 25th anniversary of the fall of the Berlin Wall, former Soviet leader Mikhail Gorbachev says 'the world is on the brink of a new Cold War', blaming the 'euphoria and triumphalism' of Western leaders and defending Putin's Valdai Club speech last month.  He also suggested that the West should lift its economic sanctions against Russia 'which are damaging both sides'.  His host, German Chancellor Angela Merkel, conversely offered a message of support to those fighting for freedom and human rights in Ukraine.  A new report by the European Leadership Network supports Gorbachev's theory, recording a series of 'highly-disturbing' close military encounters between Russia and the West since the Ukrainian crisis began – on a level equal with the Cold War.  Russia and the U.S. have agreed to exchange information about the situation on the Russia-Ukraine border, according to Secretary of State John Kerry.  Two months into the current 'ceasefire', heavy shelling continued in eastern Ukraine over the weekend, with Donetsk seeing 'the heaviest shelling in a month'.
Tagged Angela Merkel, Berlin Wall, China, Cold War, gay rights, Germany, Japan, John Kerry, Mikhail Gorbachev, National Welfare Fund, Russia, Shinzo Abe, ukraine, Vitaly Milonov, Vladimir Frolov
Comments closed
TODAY: Concern over eastern Ukraine resurfaces; Putin blames politics for falling oil prices; Lavrov tackles German business partners; Lada boom. Reactions to Timchenko case emerge; Putin warns against historical revisionism; is accused of revisionism; Russia on the silver screen.
President Putin has held talks with senior security chiefs over a 'deterioration of the situation' in eastern Ukraine as concerns mount that the ceasefire has been breached.  The President apparently has no imminent plans to meet Ukrainian President Petro Poroshenko or the newly elected heads of the people's republics of Donetsk and Luhansk.  The President has suggested that the drop in global oil prices affecting the Russian economy is the result of a 'political component'.  The Federal Anti-Monopoly Service has initiated an inquiry into privately-owned oil firms Bashneft and Lukoil (and the state's own Rosneft) suspected of market rigging to drive up domestic petrol prices.  Foreign Minister Sergei Lavrov has met with leading German executives in an attempt to improve economic ties between the two countries which have suffered due to Ukraine.  The Russian-made Lada car has proved one of the few benefactors of Western sanctions.  Russia's first McDonald's, which closed this past summer in a tit-for-tat over sanctions, is likely to reopen at the end of the month. Read More »
Tagged Barack Obama, Bashneft, Business, Ekho Moskvy, Gennady Timchenko, Lada, Politics, Rosneft, Russia, sanctions, ukraine, Vladimir Putin
Comments closed
TODAY: Ruble hits another all-time low after Central Bank announcement, inflation above 8%; Poland's new defense strategy mentions Russia; U.S. investigating Putin ally; Rossiya Segodnya planning multilingual broadcasts; Sberbank transparency ranks low; oil giants investigated for possibly influencing prices; PGNiG seeks gas price cut; Putin critic found dead.
The ruble fell to yet another all-time low yesterday after the Central Bank announced new steps towards a free-floating exchange rate – a reversal of its previous policy of managing the currency with market interventions.  In the long term, the free float is intended to stabilise the currency.  Inflation rose above 8% last month, in part due to the ruble having lost so much of its value.  Russia has amassed the world's sixth largest gold reserves over the past two years because it may need help funding imports if international reserves keep dropping.  Poland's new defense strategy addresses an 'intensifying policy of confrontation' by Russia.  President Vladimir Putin was ranked the world's most powerful leader in Forbes magazine's power list this year.  U.S. prosecutors have launched a money-laundering investigation against Gennady Timchenko, a close associate of Vladimir Putin, to discover whether he used the U.S. financial system to transfer funds related to allegedly corrupt deals.  More than 60% of Russians think it is not possible to get rich by legitimate means in their country.  Brian Whitmore says that Putin clearly isn't going to leave the Kremlin willingly, but that when he finally does, his legacy will be political upheaval.  State-run news agency Rossiya Segodnya is about to launch a new multilingual project targeting audiences overseas.
Tagged Alexei Devotchenko, Bashneft, Central Bank, Gennady Timchenko, gold, Lukoil, Naftogaz, PGNiG, Poland, Rosneft, Rossiya Segodnya, ruble, Sberbank, ukraine
Comments closed
TODAY: Varied rallies reveal 'disunity' day; state news broadcasts inaccurate story about OSCE in eastern Ukraine; Naftogaz makes first payment to Gazprom; EC expects sanctions to expire next year; Russians traveling less due to economic woes; Russia will boycott 2016 nuclear summit; Apple memorial 'homosexual propaganda' story debunked.
Over 600,000 people took part in events in celebration of National Unity yesterday, but the Moscow Times says the events demonstrated 'a remarkable show of disunity', because participants were spread across a large number of distinct rallies.  President Vladimir Putin marked the occasion by awarding state decorations to foreign public figures, and praising Russia's ability 'to defend its national interests'.  Russia sees the separatist elections held in eastern Ukraine over the weekend as 'a triumph of democracy', whereas the event was 'universally condemned' in the Ukrainian media, says the BBC.  RIA Novosti released an erroneous report last week that the OSCE had visited Donetsk to inspect polling stations.  Andrei Malgin wonders why Roskomnadzor issued a warning to Ekho Moskvy about its reporting of fighting in Donetsk, when it lets NTV, for example, broadcast various 'propaganda that passes for news' about Ukraine.  Russia's proposed treaty with the Donetsk and Luhansk People's Republics 'is suspiciously similar to its September 2008 recognition of the independence of South Ossetia and Abkhazia.'  Naftogaz has sent Gazprom its first payment of $1.5 billion, and must pay another $1.65 billion before the end of the year.  Read More »
TODAY: Germany shocked at Russia's acknowledgement of Ukraine separatist vote; NATO says border is porous; Putin speech to mark National Unity Day today; Russia low on Prosperity Index, financial woes spread to neighbours; posthumous honour for de Margerie; Apple monument dismantled in St. Petersburg.
President Vladimir Putin has not yet formally recognised the validity of the separatist elections held in eastern Ukraine over the weekend, but a spokesman for German Chancellor Angela Merkel said it was 'incomprehensible' that other 'official Russian voices' had done so.  Merkel herself suggested that Europe may need to intensify sanctions 'if the situation worsens'.  NATO's top military commander says Russian troops are still training and equipping separatists in Ukraine; that the border between the two countries is almost completely porous; and that recent Russian incursions into European airspace have been increasingly 'provocative'.  U.S. Vice President Joe Biden 'went out of his way to correct himself' yesterday after describing Russia as having 'invaded' Ukraine.  Putin will speak in Moscow's Red Square today to mark National Unity Day – only 50% of Russians know that the day is held in celebration of the Bolshevik Revolution, according to a Levada Center Poll.  The nationalist community will hold its annual march in Moscow and other Russian cities to celebrate, though the Moscow event 'has been pushed to the edge of the city', a reflection of the Kremlin's 'long-term ambiguous relationship with […] nationalists'.
Tagged Angela Merkel, apple, Christophe de Margerie, gay rights, Germany, Joe Biden, Levada Center, National Unity Day, NATO, nuclear security, Prosperity Index, racism, Russia, Tim Cook, ukraine
Comments closed
TODAY: Russia goes against Kiev's wishes to recognise eastern Ukraine elections; Ukraine crisis to blame for Russia's blocking Antarctic conservation? African migrants facing abuse; Putin critic tortured in exile; Central Bank measures to boost ruble fail; Germany's rejection of coal will increase dependence on Russia; Ekho Moskvy warned; Antares crash a 'wake-up call'.
Ukrainian President Petro Poroshenko called on Russia not to recognise the results of this weekend's separatist elections in eastern Ukraine, but the Foreign Ministry says it considers the elections to be valid, and that it 'respects the will of the people'.  German Chancellor Angela Merkel told President Vladimir Putin that the elections would not be recognised in Europe.  Russia has apparently taken an 'obstructionist position' on conservation in the Antarctic, blocking the creation of marine-protected areas on the Southern Ocean, with negotiators blaming tensions stemming from the Ukraine crisis.  This LA Times piece about African migrants in Russia says that much of the racism and abuse that they typically suffer goes unpunished. 'Living here in Russia is like living in hell on Earth.'  A Russian Premier League soccer coach says he will not sign black players.  A former Chechen leader currently exiled in France says he was kidnapped and tortured by Russians after accusing Vladimir Putin of war crimes.  Writer Yevgenia Albats told the Times, 'That I am going to die in a country run by the KGB makes me sick.'
Tagged Angela Merkel, Antarctic, Antares, Boeing, Central Bank, Chechnya, Ekho Moskvy, Germany, KGB, racism, Roskomnadzor, ruble, Russia, Russia Today, ukraine, VTB Bank
Comments closed
TODAY: Ukraine and Russia reach winter gas accord; Moscow court orders nationalisation of Bashneft; Russia will claim Arctic shelf next year; Polish industrials seeking non-Russian gas sources; U.K. responds to news of Russia Today's new channel; Milonov slurs Apple CEO; corruption allegations against pension and construction heads.
Ukraine and Russia have reached an '11th-hour' agreement on gas supplies for the winter, easing fears about energy security during the cold months.  Moscow will resume supplies in exchange for Ukraine immediately paying off $1.45 billion of its gas debt, and promising to cover the remaining $3.1 billion by the end of the year, according to EU Energy Commissioner Guenther Oettinger, who signed the accord, along with Russian Energy Minister Alexander Novak and his Ukrainian counterpart Yuri Prodan.  Uncertainty still remains regarding next summer's prices.  Moscow's Arbitration Court has ruled that the Bashneft stake owned by Sistema was illegally privatised and now must be returned to the state – effectively nationalising the company. The decision has led to 'an outcry in Russia's business community' and drawn comparisons with the break-up of Yukos.  Sistema says it will appeal the decision.  Russia plans to claim over one million square kilometers of the Arctic shelf by filing a formal application with the United Nations next year.  Some of Poland's big industrial consumers of natural gas are reducing their intake from PGNiG, which gets most of its imported gas from Gazprom, and diversifying to other sources.
Tagged Alexander Novak, alexei navalny, apple, Arctic, Bank of Russia, Bashneft, Crimea, Dmitry Medvedev, France, Guenther Oettinger, Moscow Arbitration Court, Pension Fund, PGNiG, Russia, Russia Today, Sistema, Tim Cook, ukraine, Vostochny Cosmodrome, Yukos, Yuri Prodan
Comments closed