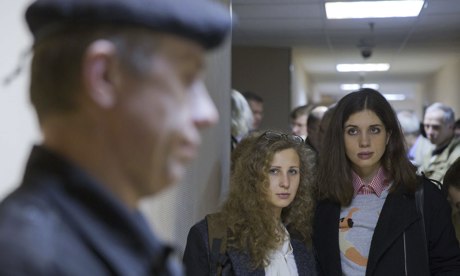 TODAY: Terror attempt thwarted in Stavropol; F.B.I. sending personnel to Sochi for Games; European Court orders Chechnya payout; Ukraine signs price reduction with Gazprom; Mokhnatkin charged; Pussy Riot attend trial broadcast; bank loses license.
Police are hunting for suspected terrorists after five (or six, depending on the source) dead bodies were found in vehicles in the Stavropol city of Pyatigorsk, 'booby-trapped' with bombs.  (Pyatigorsk is about 300km from Sochi.) Cossacks will be patrolling the Sochi Olympics next month, with security forces now on terror alert.  A senator is proposing an amendment to the Criminal Code that would allow law enforcement officials to be jailed for 15 years should a terrorist attack be carried out successfully.  A private U.S. 'crisis-response firm' will be on standby in the event of an emergency situation during the Games; the F.B.I. also reportedly is sending personnel to Sochi.  A newborn baby in the resort city has been registered with the name 'Olympiada'.  The European Court of Human Rights has ordered Russia to pay $2.6 million to Chechen families who have lost loved ones to disappearances that Moscow has failed to prove it was not responsible for.
Ukraine's Naftogaz and Gazprom have at long last signed an agreement to cut the price of Russian gas by one third.  Prominent journalist Aksana Panova has been banned from working for 2 years and fined after being charged with extortion.  She intends to appeal what the mayor of Yekaterinburg (also her boyfriend) called an attempt to 'silence' her.  Opposition activist Sergei Mokhnatkin, arrested at a rally last month, is being charged with assaulting a police officer.  Nadezhda Tolokonnikova and Maria Alyokhina of Pussy Riot attended the live public broadcast of a trial at a Moscow court yesterday to show support for those in pre-trial detention.  Orthodox Deacon Andrei Kurayev fears losing his post – he claims – for having outed a 'gay lobby' within the Church.
Gazprom Neft will start commercial production at its Iraqi oilfield next year.  The AKB Novokuznetsk Municipal Bank has lost its license for failing to fulfill creditor obligations.
PHOTO: Pussy Riot's Maria Alyokhina and Nadezhda Tolokonnikova at Zamoskvoretsky district court in Moscow. Photograph: Evgeny Feldman/AFP/Getty Images