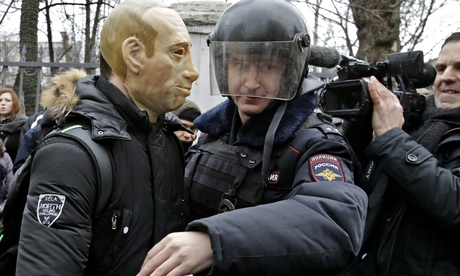 TODAY: Grounds for NGO inspection expanded; Bolotnaya Square protesters sentenced, hundreds detained for protesting; Kremlin slams U.S. and I.M.F.; Medvedev questions legitimacy of Kiev's interim government; Transneft settles Azerbaijan transit row.
President Vladimir Putin said the Sochi Olympics succeeded in their goal of presenting a new image of Russia to the world, and then proceeded to sign a new law that will expand current grounds for surprise inspections of NGOs.  Around 100 (some sources say 200 and more) people were detained yesterday for taking part in unauthorised protests outside the court in Moscow where seven of the eight remaining Bolotnaya Square protesters were sentenced to 2.5-4 years of jail time.  Demonstrators chanted 'Maidan! Maidan!', possibly as a warning to Vladimir Putin of potential consequences if the sentences are not mitigated.  RIA Novosti reports much higher numbers of protesters, and says that a total of 500 people were detained in Moscow and St. Petersburg combined.
It is Washington that needs to avoid the use of force in international conflicts, not the Kremlin, says the Foreign Ministry.  And the International Monetary Fund is in urgent need of reform, says Finance Minister Anton Siluanov.  Russia is continuing to denounce the situation in Ukraine, with Prime Minister Dmitry Medvedev accusing the interim government of using 'terrorist methods' to take power.  He also questioned the legitimacy of the new government, saying that there was no one suitable for Russia to do business with in Kiev.  'If people crossing Kiev in black masks and Kalishnikov rifles are considered a government,' he said, 'it will be difficult for us to work with such a government.'  Ukraine's Acting Energy Minister says he hopes that the price his country currently pays for Russian gas will remain stable.  Good luck with that, says this Times analysis: Putin needs Ukraine in order to retain local credibility 'in the many countries whose dictators are propped up by Russia'.
Transneft has just lowered transit fees for Azerbaijani oil, following a row last year which left the country's state oil company, SOCAR, threatening to send its crude through Turkey instead.  The number one hindrance to the efficiency of Moscow's courts?  The mail service, apparently.
PHOTO: Russian police officers detain an opposition activists wearing a Vladimir Putin mask outside a court room in Moscow, Russia, Monday, Feb. 24, 2014, where hearings started against opposition activists detained on May 6, 2012 during a rally at Bolotnaya Square. (Tatyana Makeyeva/Reuters)