TODAY: Putin's Q+A features Ukraine, Washington and surprise from Snowden; tentative deal reached in Geneva on Ukraine crisis; President hopes to limit Crimea spending; Usmanov retains top spot in Russian billionaire rankings. 
In Vladimir Putin's 'confident' performance at his live Q&A session (his 12th, during which he answered 85 questions) he attacked sanctions imposed by the West over Russia's actions in Ukraine as 'a violation of human rights'.   He added that annexing Crimea was partly to do with NATO's eastward expansion, though he was quick to assert that the Western military alliance does not inspire fear in the Kremlin.  The President argued that trust between Moscow and Washington had been undermined for some time, 'but we do not think we are to blame'.  Nonetheless he reassured a six-year-old who asked the question of whether President Obama would save him from drowning with an affirmative response.  Can Europe stop buying Russian gas? 'In my view, it's impossible'.  The President also assured viewers that a drop in oil prices from $90 to $85 per barrel would not seriously affect the economy.  The Q&A's most unexpected moment came in the form of a question about the Kremlin's use of surveillance from NSA whistleblower Edward Snowden, in response to which Putin asserted that intelligence was 'under the strict control of the state and society'.  Putin also threw an apparent lifeline to threatened independent TV station Dozhd (Rain) and informed viewers that he has no intention of remaining president for life.
Tagged Alisher Usmanov, Barack Obama, Business, Crimea, Dozhd, Edward Snowden, Energy, gas, NATO, Politics, Q&A, Russia, U.S., ukraine, Vladimir Putin
Leave a comment
TODAY: Putin's annual Q+A expected to focus on Ukraine; Kiev's attempts to regain control of Donetsk thwarted; 3 dead at Mariupol base; little expected from talks scheduled for today. The West's financial leverage; Turkey approves South Stream; the art of protesting under fire.   
President Putin's annual live Q+A session which takes place today is expected to focus upon Crimea, other issues surrounding Ukraine and high housing bills.  Yesterday's reports that Ukrainian forces had recaptured parts of the Donetsk region are being denied: the Independent reports that Ukrainian APCs were seen flying Russian flags. 'Kiev's military intervention has had no success'.  Dmitry Peskov, President Putin's press secretary, maintains that there are no Russian troops in eastern Ukraine.  The Guardian states that armed men 'made little secret of the fact they took orders from Moscow. Many of them appeared to be Russian troops from Crimea'.  Ukraine's interior minister says three pro-Russian protesters have been killed near Mariupol in eastern Ukraine.  Can diplomacy save the day? wonders the Telegraph as four-party talks begin, while expectations for the talks remain low.  'You can't send in tanks and at the same time hold talks': Foreign Minister Sergei Lavrov voices his complaints.  Professor Valery Solovei examines the way in which the media shapes Russian perceptions of the Ukraine crisis here.
TODAY: Ukraine tensions mount as army clashes with pro-federalists in Kramatorsk; 11 dead; Putin lambasts Kiev's actions; U.S. sees clear Russian involvement in the standoff. The financial cost of keeping Crimea; zero economic growth on the horizon; slumping stocks. 
'The country is on the threshold of a civil war': Prime Minister Medvedev's Facebook comment on Ukraine, one example of what the New York Times has called Russia's 'extraordinary propaganda campaign' of 'misinformation, exaggerations, conspiracy theories [...] and occasionally, outright lies' about the crisis. Reports of escalating conflict are to be found elsewhere as the Guardian states 'Ukraine is on the verge of major armed conflict'.  The latest events have seen government forces launch their first significant military action in Kramatorsk, which they have apparently recaptured from a pro-Russian group after a shootout which claimed 11 lives.  Pro-federalist fighters are reportedly stepping up their campaign in the city.  Ukrainian units have also assembled in the city of Slavyansk with the aim of regaining control of it from armed pro-Russian groups.  President Putin has decried the moves of the Ukrainian government as 'anti-constitutional acts' in a phone call to the U.N. secretary general, Ban Ki-moon, criticisms seconded by Foreign Minister Sergei Lavrov.
Tagged Business, Crimea, Dmitry Medvedev, Economy, Energy, human rights, Lukoil, NATO, Politics, Russia, Sergei Lavrov, Sinopec, U.S., ukraine, Vladimir Putin, vodka
Leave a comment
TODAY: Separatists riot and seize buildings across Ukraine; Putin and Lavrov deny Russian involvement; economy suffering; Putin to take a pay rise; UN report says Russia rigged Crimea referendum; Russian jets nearing US and Japanese territory.
Pro-Russia separatists rioted at government buildings across Ukraine yesterday (including a police building in Horlivka), prompting US President Barack Obama to urge President Vladimir Putin to use his influence to persuade the separatists to stand down.  He was echoed by Germany and the UK.  The BBC has footage of skirmishes in Slavyansk, including an attack on a local journalist.  The Guardian has a useful timeline of yesterday's events.  Both Putin and Foreign Minister Sergei Lavrov denied accusations of Russian involvement; Lavrov went so far as to say that Russia does not even have any intelligence agents in Ukraine. He also accused Ukraine of blocking Russian journalists from crossing its borders.  A leaked UN report on human rights in Ukraine claims that Russia tampered with the Crimea referendum.  A weatherman on state television channel Russia 24 spoke of a 'gusty wind, possibly the wind of change' over eastern Ukraine during his broadcast yesterday.
TODAY: Ukraine's acting president says it's war; deaths on both sides as Kiev meets pro-Russian separatists with force; Russia calls emergency UN meeting, quarrels ensue; Naftogaz suspends gas payments; thousands protest in favour of media freedom in Moscow; Khodorkovsky prison book published; Russia spent more than US on military last year.
The acting President of Ukraine, Oleksandr Turchynov, announced to his nation in a televised address that it is at war with Russia, and vowed to launch a 'large-scale anti-terrorist operation', after Kiev sent troops into government buildings in a bid to remove pro-Russian protesters by force, reportedly leading to deaths and casualties on both sides.  This morning marks Ukraine's deadline for pro-Russian separatists to disarm or face attack.  Russia says the deadline is effectively 'a criminal order'.  Russia called an emergency meeting at the UN yesterday to address the situation: the US ambassador accused Russia of having 'written and choreographed' the current instability; Ukraine's ambassador said his country just wants Russia 'to leave us in peace'.  Russian ambassador Vitaly Churkin says Ukraine needs to end what he called 'a war with its own people', dismissed all Western accusations of Russian involvement in the current crisis, and slammed 'grotesque Russophobia and embedded hatred' in the Ukrainian parliament.  Perhaps Russia's aim is to destabilise Ukraine before the latter's presidential elections next month, says The Economist.  Ukraine's state energy company, Naftogaz, says it has suspended payments to Gazprom.
Tagged CIA, Crimea, Europe, Gazprom, Google, Mikhail Khodorkovsky, Naftogaz, Oleksandr Turchynov, Russia, ukraine, UN, US, Vitaly Churkin
Leave a comment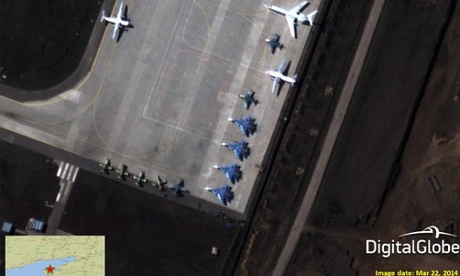 TODAY: Satellite images show troops on Ukraine border; Putin warns EU of gas shortage in event of cuts, says Crimea was a last-minute decision; Shuvalov says sanctions won't influence policy; Council of Europe votes to withdraw Russia voting rights; Kiselev praises Russian freedom of speech; Ukraine activist alleges torture in Crimea; Gazprom takes over Kyrgyz gas company.
Satellite images newly released by Nato show a strong Russian military buildup along Ukraine's eastern border, giving grounds to Western fears of an invasion, and challenging Russia's prior assertion that it has no plans to use force.  In a letter to the leaders of 18 EU states, President Vladimir Putin warned that Russia will cut natural gas deliveries or switch to an advance payment system for Ukraine if Kiev fails to pay its debt, and that such a move would inevitably reduce the gas available to Europe; approaching the matter from another angle, Deputy Prime Minister Igor Shuvalov says that, in any case, Russia doesn't need the West's energy custom.  Furthermore, Shuvalov said, the threat of further sanctions will not change Moscow's policies; he insisted that current capital outflows are due to fluctuations in the ruble exchange rate, not the Ukraine crisis.  Putin says that the annexation of Crimea was not planned in advance, and that he only made the final decision 'after the mood of the people became clear'.  Russia is considering pulling out of the Council of Europe after the human rights body voted to withdraw Russia's voting rights in the wake of a three-hour debate condemning Russia's actions in Ukraine.
Blogging over at TechDirt, Mike Masnick gets right down to the point of the MPAA's latest lawsuit against Megaupload – the company which they already destroyed via a bogus criminal case from the Department of Justice. The lawsuit, which attacks the basis of numerous perfectly reasonable activities for tons of cloud computing companies, may have extremely negative consequences felt broadly across the internet by seeking rulings which would require that tech start ups maintain expensive filtering technologies – placing the onus on service providers rather than rights holders.
The article argues:
You can argue that Megaupload was widely used for infringement. You can even argue that Megaupload management were awful people who didn't care that much about copyright. But if you read this lawsuit objectively, you have to admit that it is a straight up attack on the basic principles of cloud computing and user-generated content, while seeking to change settled law and reinterpret the DMCA in a way the MPAA fantasizes it should be, rather than the way the law is today. That's incredible dangerous.
It's no surprise that they're doing this against Megaupload, a company based halfway around the globe, with all its assets seized, and which is fighting a massive criminal complaint at the same time. That will, obviously, lead to limited resources to fight this civil suit, making it easier for the MPAA to sneak through dangerous changes to the law, via potential court rulings. These are changes that it's been unable to get written into the law for the past few years, so now it's using the courts to try to do its dirty work.
No matter what you think of Megaupload, this is a very dangerous lawsuit.
Hollywood's determination to fight against the advance of technology is very, very worrying, and it's time we did something about it.
TODAY: Russia says West is overreacting regarding fears of a Ukraine invasion; Kiev halts gas imports from Russia, E.U. aims to diversify supply by 2020; Russia and China approaching energy deal; Putin ups economic pressure on Ukraine; companies concerned that Ukraine crisis will damage business; Vnesheconombank under investigation; VoA blocked.
Russia says Western concerns over its military presence on its shared border with Ukraine are 'groundless', and insists that it poses no threat: 'Russia has said several times that it is not conducting any unusual or unplanned military activity on its territory near the Ukrainian border.'  Political analysts and Kremlin allies agree, saying that Russia's plans for Ukraine are more subtle than invasion, and constitute a long-term aim to keep the country under its economic and military influence. 'A federal structure will ensure that Ukraine will not be anti-Russian.'  Kiev has promised to expel pro-Russian protesters from its government buildings today if they will not leave voluntarily.  Prime Minister Dmitry Medvedev's suggestion that Gazprom shift to an advance payments system for Ukraine's gas supplies was blocked by Vladimir Putin; Ukraine has halted its natural gas imports from Russia, citing Gazprom's 'aggression' and saying that it will not resume receipt of deliveries until a price agreement is reached.  Europe says it is beginning to put together new measures to reduce by $18 billion its natural gas imports from Russia by 2020.  The crisis in Ukraine is forcing Russia to look eastwards, says Bloomberg, as Gazprom and China come closer to reaching a 'landmark' 30-year gas deal that is expected to be signed in May once prices have been agreed.
TODAY: U.S. says Russia planting agents in Ukraine as pro-Russian protests hit more cities; South Stream pipeline could fall victim to sanctions; ministers to meet on Ukraine crisis next week; Sweden says it fears Russian aggression; Novosibirsk fines cinemas; 'foreign agents' law upheld; Clinton meets Pussy Riot; urgent means required to rescue economy. 
U.S. Secretary of State John Kerry described the Russia-Ukraine situation as 'more than deeply disturbing', alleging that Russia is making 'ham-handed' and 'transparent' efforts to stir dissent by planting agents in Ukraine.  Tensions in Ukraine have spread beyond Crimea to Donetsk, Kharkiv, and Luhansk (also known as Lugansk), and Kiev is sending tanks to Luhansk to defend against a possible armed attack after protesters allegedly stormed a regional security department and seized weapons there. Kiev still blames Russia for fomenting dissent, and Nato is warning Russia that further intervention in Ukraine would be a 'historic mistake', reiterating its call for the pulling back of troops from the border.  Kazakhstan is seeking alternative routes for its oil exports in the event of harsher sanctions against its Russian ally; the South Stream pipeline may be another victim of Europe's wrath.  Estonia says more economic sanctions would hurt European countries, but might be a necessary way of getting the message across: 'We should not accept, by any means, invading other countries.'  A meeting of Russian, U.S., E.U. and Ukrainian ministers will be held next week to address the crisis.  Swedish security services say they are fearful of a war with Russia after intelligence communications indicated more attempts to recruit spies: 'You don't carry out these kinds of things unless you can actually conceive carrying out an attack in the future.'
TODAY: Donetsk declares itself a republic, sets date for referendum on joining Russia; U.S. and Russia accuse each other of fomenting dissent; Kerry threatens Lavrov; VKontakte founder retracts resignation, says share sale was illegal; Medvedev turns against GMOs; Novosibirsk elects Communist mayor; Ukraine misses Gazprom debt deadline; Sochi committee congratulates itself.
A referendum on joining Russia will be held in Donetsk, Ukraine on May 11, where anti-government protesters are calling in the meantime for the protection of Russian 'peacekeepers' and, according to some reports, have declared the city a people's republic.  The State Duma says it is considering sending a delegation.  The White House says it has 'strong evidence' that pro-Russian demonstrators in Ukraine are being paid; President Vladimir Putin in turn made his own accusations about the West using NGOs to fuel dissent in Russia, and alleged that security forces foiled hundreds of foreign spies in 2013.  U.S. Secretary of State John Kerry threatened Foreign Minister Sergei Lavrov with 'further costs' in the event of further actions in Ukraine.  This is a prime moment for Putin with Ukraine, says the WSJ: 'Never again will the administration in Washington be so inept, its threats so hollow.'  Any further sanctions imposed on Russia by the E.U. could actually damage the German engineering sector, says trade body VDMA.  Six activists were detained near the Kremlin yesterday for holding 'invisible posters'.