An apartment complex owned by the Russian government in Stockholm has been sold in a foreclosure auction. What does this mean for foreign investors fighting expropriation?

The relations the International Criminal Court (ICC) enjoys with states in Africa are testy - and things don't appear to be getting better.

The latest Snowden leak shows that the NSA, via it's partner in Australia, has violated attorney-client privilege of a U.S. law firm. Is the "Five Eyes" alliance being used to circumvent constitutional protections against U.S. surveillance against its own citizens?
TODAY: West continues to pressure Russia over Ukraine; Putin defends actions in Crimea; Khodorkovsky addresses Kiev crowds, says Kremlin is lying; pro-Russia protesters disrupt peaceful Ukrainian rally; TNK-BP oligarchs close to new deal; Serdyukov corruption case dropped; Gazprom threatens Ukraine over price and supply.
Western governments are pressuring Russia to find a peaceful solution to the Crimea crisis, with Britain warning of a 'shooting conflict' if Russian forces move beyond Crimea into eastern Ukraine.  During a telephone conversation last night, German Chancellor Angela Merkel reportedly told President Vladimir Putin that Moscow's backing of a referendum in Crimea was illegal and in violation of Ukraine's constitution.  Putin, however, insists that Crimea's actions were legitimate and based on international law.  (Reuters has a useful timeline of recent events.)  Former prisoner and Yukos head Mikhail Khodorkovsky addressed crowds gathered at a protest in Kiev over the weekend, telling them that the Russian authorities were complicit in deadly government attacks by former President Viktor Yanukovych; he accused the Kremlin of lying in its portrayal of Ukrainian protesters. 'Russian propaganda lies, as always. There are no fascists or Nazis here, no more than on the streets on Moscow or St Petersburg. These are wonderful people who stood up for their freedom.'  Foreign Minister Sergei Lavrov says the current Ukrainian crisis was 'created artificially for purely geopolitical reasons'.  Pro-Russian protesters attacked Ukrainians who gathered in Donetsk to celebrate the 200th anniversary of the birth of Ukrainian writer Taras Shevchenko, as pro-Kremlin youth groups helped organise weekend actions across Russia to show support for Ukraine.  Dominic Lawson analyses Russia's justifications for its actions in Ukraine as 'pure Soviet vintage'.
TODAY: Crimea to join Russia, U.S. announces Russia sanctions, E.U. and Australia consider following suit; Putin appeals to U.S. for continued good relations, NATO suspends military relations with Russia; VTsIOM announces healthy support for Russian invasion of Ukraine; bill would prosecute media for publishing anti-Russian material; For Human Rights suspended; Pussy Riot members attacked.
Following Crimea's announcement of a referendum to ratify its parliament's decision to join the Russian Federation, U.S. President Barack Obama called the move illegal and announced a set of sanctions that aim to punish Russia for its occupation of Ukrainian territory.  European leaders indicated general agreement: '[Putin] wants to divide us. The reality is that we are on the same page.'  Garry Kasparov suggests that the West cut off the funds of Russia's oligarchs if it really wants to break support for Putin ('Use banks, not tanks').  Obama is still holding out for a diplomatic solution, whilst President Putin says Russia-American relations should not be sacrificed due to differences over international problems.  The Foreign Ministry has rebutted yesterday's U.S. State Department list of Putin's 'fictions'.  NATO has suspended military relations with Russia, and Australia is also considering sanctions.  But Syrian President Bashar al-Assad offered his country's support to Russia in restoring 'stability' to Ukraine, and in Russia, President Vladimir Putin is enjoying his highest approval ratings in two years (at least, according to state-run pollster VTsIOM).  Moscow stocks largely recovered from the initial plummet that the news caused yesterday, although Russia's overall economic stability is faltering. The BBC argues that 'the political-economic base of Vladimir Putin's 2004-2013 administration is coming to an end'.
TODAY: Lavrov and Kerry fail to reach agreement on Ukraine; Lavrov denies that Russian-backed troops are in Crimea; U.S. State Department slams Putin's 'fiction', Clinton compares leader to Hitler; Kremlin pre-empting foreign sanctions; RT news anchor quits live on air in response to 'whitewash'; Central Bank supports ruble with foreign currency sales.
Western powers are still hoping to persuade Russia to engage in dialogue with the new government in Ukraine, but Russia still does not recognise Kiev's interim government.  Foreign Minister Sergei Lavrov and U.S. Secretary of State John Kerry failed to reach a deal on Ukraine during 'frantic' meetings last night.  U.S. sources denied Lavrov's report from the meeting that both sides had agreed to help Ukraine implement an E.U.-brokered reconciliation deal. 'There were no agreements in this meeting'.  Lavrov continues to deny that Crimea has been seized by Russia-controlled troops, dismissing video evidence to the contrary as 'complete nonsense'.  The U.S. State Department has published an out-of-character fact sheet accusing President Vladimir Putin of lying about Ukraine and slamming Russia's 'illegal actions'. A Wikipedia article on Adolf Hitler's autobiography will be blocked in Russia for 'extremist' content, coinciding with Hillary Clinton's comparison of Putin's actions in Crimea with those of the Nazi leader in the 1930s, a comment which has sparked a 'political uproar'.
TODAY: Ukraine fears quieten as Putin rules out force; describes events in Kiev as coup d'etat; ICBM tested.; President's motives considered. Journalists covering Crimea story intimidated; Professor sacked over critical article; final days of Dozhd; Navalny receives new accessory. 
President Vladimir Putin has spoken publicly about events in Ukraine for the first time since ousted President Viktor Yanukovych fled Kiev, at a press conference in which he has described the events in the capital city as a coup d'etat.  Putin described the Kremlin's concerns that 'nationalists and radical extremists are rampant on the streets of Kiev'.  The Russian President calmed fears about the situation escalating by stating that force would only be used as a last resort and that he would not consider the possibility of annexing Crimea.  Whilst asserting that it was 'unnecessary' to send troops to Ukraine, he reserved the right to deploy forces in 'extreme circumstances'.  16,000 soldiers are currently estimated to be in the region. In the meantime Russia's military has test fired an intercontinental ballistic missile.  The FT describes Putin's press conference as 'a classic performance: clever, tough, sardonic and deeply cynical'.  Robert Coalson ponders the motives for Putin's Crimea moves: the impulse of a hothead or long-mulled strategic decision?
Tagged alexei navalny, Barack Obama, Business, Crimea, Dozhd, freedom of speech, Japan, media, military, Politics, RT, Russia, sanctions, ukraine, Viktor Yanukovich, Vladimir Putin
1 Comment
TODAY: Lavrov defends military action in Crimea as the protection of Russian citizens; Churkin indicates deployment requested by Yanukovych; some troops return, but new drills begin; web content linked to Ukraine protest movement blocked.  International condemnation continues; Moscow looks to Beijing for support; economic outcomes analysed.  Nationalist attacks decrease; Russian billionaires remain strong.
In an address to the UN Council on Human Rights in Geneva, Foreign Minister Sergei Lavrov insisted that Russia's moves in Crimea were a matter of 'protecting our citizens and compatriots, about protecting the most fundamental human right – the right to live and nothing more'.  The BBC wonders if Russia has a case.  This commentator sees a precedent for Russia's current actions in the Georgia invasion of 2008.  Another analyst warns, 'Ukraine is not Georgia. It is a huge country in the heart of Europe, bordering on three EU and NATO members'.  See here for an overview of why the Crimea is of such geopolitical importance to Moscow.  Local lawmakers in the region are apparently mulling changing the clock to Moscow time.  At an emergency meeting of the UN Security Council in New York, the Russian Ambassador Vitaly Churkin asserted that ousted President Viktor Yanukovych had requested Russia's armed forces be deployed in Crimea before he fled the Ukrainian capital.  The Kremlin has rebuffed reports that it forced an ultimatum to surrender on Ukraine's new administration.  Apparently some of the troops involved in military exercises in Crimea have been returned to their bases.  Meanwhile a new set of surprise live fire exercises, observed by President Putin and Defense Minister Sergei Shoigu, have been undertaken in Russia's western Kaliningrad and Leningrad Regions.  The country's Internet monitoring agency has reportedly placed a block on 13 Internet pages linked to the Ukraine protest movement.    Read More »
Tagged Alisher Usmanov, Business, China, Crimea, Energy, Forbes, G8, hate crimes, investment, John Kerry, Politics, Rosneft, ruble, Russia, sanctions, Sergei Lavrov, Sergei Shoigu, ukraine, UN, Vladimir Putin
1 Comment
TODAY: Russia seizes Crimea in move decried by international community; deployment of military forces approved by Russian parliament; G8 Sochi summit imperiled by Moscow's moves; protestors against war detained in Moscow. Steel prices to remain flat; Armenia readies itself for customs union.
At the request of President Putin, Russia's upper house of parliament unanimously approved a measure to deploy military forces in Ukraine as the situation in Crimea, where Russian troops have surrounded several towns and seized weapons, intensifies.  'This is not a threat: this is actually the declaration of war to my country', says newly appointed Ukrainian Prime Minister Arseny Yatseniuk.  President Putin has apparently told German Chancellor Angela Merkel that Russia's actions in Ukraine are 'fully congruent to the current extraordinary situation in that country'.  Prime Minister Dmitry Medvedev has stated on his Facebook page that the Kremlin is ready to engage positively with Ukraine, but not with those who seized power in breach of the Constitution and other laws of the State.  The Kremlin has warned Kiev that it may lose a discount on the gas price it now pays to Gazprom due to its outstanding gas debt.  Around 50 demonstrators protesting against Russian military intervention in Ukraine were detained yesterday in Moscow, Dozhd television reported using police estimates, whilst independent detention monitoring website Ovdinfo.org put that figure at 360 people. RFE/RL has a video report.  In the Russian capital around 20,000 people turned out for a march in support of the Russian-speaking population in Ukraine.  According to Russia's border guard service around 675,000 Ukrainian citizens have migrated to Russia since the beginning of 2014 amid fears of political instability in their homeland.
Tagged Angela Merkel, Armenia, Barack Obama, Business, customs union, Dmitry Medvedev, Dozhd, Energy, G8, Gazprom, NATO, Politics, protests, Russia, ukraine, Vladimir Putin
2 Comments
TODAY: Two Crimean airports 'occupied' by Russian troops, says Ukraine interior ministry; Moscow denies but hints at conciliation; moves in Duma to facilitate territories joining Russia; Yanukovych protected by Moscow?  Future of Ria-Novosti staff uncertain; Investigative Committee knuckle down on Gleb Fetisov; profits plunge at Severstal.
Armed men, believed to be Russian officers, have seized control of two airports in the Crimea region in what Ukraine's interior minister has labelled an 'armed invasion'.  These charges have been vociferously denied by Russia.  In an apparent conciliatory gesture, President Putin has instructed his government to continue talks with Ukraine on economic and trade relations in consultation with Western partners.  With Ukraine in mind, deputies from A Just Russia intend to submit a bill to parliament that would ease the process of new territories joining the Russian Federation, by way of referenda or parliamentary decision.  The head of the Federation Council international affairs committee, Igor Morozov, visiting Crimea, says that a decision to hold a referendum 'is not separatism', but is 'simply the granting of broader powers to the peninsula, not only political, but also economic ones'.  A bill to facilitate the procedure of granting Russian citizenship to Ukrainian nationals may also imminently be signed.  Reports have emerged that wanted former Ukrainian President Viktor Yanukovych landed at a military airport in southern Russia, escorted by fighter jets, on Thursday night, having been granted protection by the Kremlin.
TODAY: Crimea's regional parliament seized amid clashes between pro-Russians and Tatars; Russian troops flex muscles; Yanukovych spotted near Moscow?  Navalny investigators seek house arrest; police officer accused of attacking Bolotnaya detainee; Putin's popularity high; Michael McFaul says goodbye to Russia. 
In a rapidly evolving situation, it has been reported that the regional government building and parliament in the Crimea have been seized by 'armed men in uniforms that do not bear any recognisable insignia'.  Thousands of ethnic Russians in the majority Russian region of Ukraine have protested against the new government in Kiev and have clashed with Tatars who support the new leadership.  Deposed Ukrainian president Viktor Yanukovych, who has now been placed on the international wanted list, has reportedly been sighted in a luxury health resort run by the Russian department of presidential affairs outside Moscow.  150,000 Russian troops are preparing for war games along the Ukrainian border in a surprise military exercise, which the Kremlin asserts has nothing to do with Ukraine.  A Russian military intervention is unlikely, Luke Harding believes, given that Moscow has one insuperable 'instrument of control': money.  As Ukraine's economic crisis worsens, banking giant VTB has joined Sberbank in saying it will cease new lending in Ukraine.  Russia will participate in discussions on an IMF financial package to Kiev.  U.S. Secretary of State John F. Kerry has warned against military intervention of any form whilst Washington pledges financial support.  Read More »
TODAY: Navalny jailed after taking part in protest; U.S. calls for reversal of Bolotnaya decision; weakening ruble could boost treasury; Putin said to have influenced Yanukovych's fleeing; top officials meet to discuss Ukraine, but reveal no official position; rumours of Kremlin-backed separatism; hundreds of violations at Amur space centre; hefty Indonesian investments planned for 2014.
Three opposition leaders including Alexei Navalny were sentenced to ten days in jail for disobeying police orders and resisting arrest, despite video evidence indicating the contrary, raising concerns 'that Mr. Navalny could face a much longer term in jail in one of the other cases filed against him'. The trio had been arrested after taking part in a rally near the Kremlin earlier this week, which began in the wake of the sentencing of the Bolotnaya Square protesters.  'This is very much 2012 all over again,' commented one of Navalny's supporters.  The U.S. State Department is calling on the Kremlin to reverse the 'politically-motivated' Bolotnaya decision and release the eight demonstrators.  The Washington Post notes that Russia's 'fraying' constitution contradicts the Kremlin's crackdown by continuing to uphold 'freedom of ideas and speech' for everyone.  The weakening ruble could spell good news for federal income this year, and push the treasury into a surplus by lessening domestic expenditures and boosting revenues on global commodities.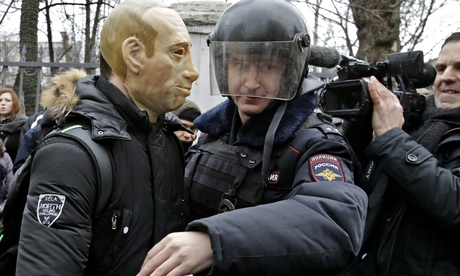 TODAY: Grounds for NGO inspection expanded; Bolotnaya Square protesters sentenced, hundreds detained for protesting; Kremlin slams U.S. and I.M.F.; Medvedev questions legitimacy of Kiev's interim government; Transneft settles Azerbaijan transit row.
President Vladimir Putin said the Sochi Olympics succeeded in their goal of presenting a new image of Russia to the world, and then proceeded to sign a new law that will expand current grounds for surprise inspections of NGOs.  Around 100 (some sources say 200 and more) people were detained yesterday for taking part in unauthorised protests outside the court in Moscow where seven of the eight remaining Bolotnaya Square protesters were sentenced to 2.5-4 years of jail time.  Demonstrators chanted 'Maidan! Maidan!', possibly as a warning to Vladimir Putin of potential consequences if the sentences are not mitigated.  RIA Novosti reports much higher numbers of protesters, and says that a total of 500 people were detained in Moscow and St. Petersburg combined.