Not only have prosecutors deliberately and repeatedly misinformed the media regarding the details of the Stephan Templ case, but diplomatic staff including the Austrian Ministry of Foreign Affairs have also issued false statements distorting the court record.
TODAY: Putin gives in-depth interview, promises not to remain president forever, shrugs off sanctions; sharp increase in capital outflows, Kudrin says ruble will continue to fall; property prices dropping. Russiaa and Abkhazia to sign partnership agreement; Browder claims kidnap threat; Ekho Moskvy drawing up staff social media regulations. 
In a lengthy new interview with philosopher Nikolay Berdyayev, President Vladimir Putin spoke on a range of personal and political topics (the full text is here; the Moscow Times has selected some highlights).  Regarding the future of his presidency, he said he would not stay in power 'forever', and expressed his need to follow the constitution, but did not rule out taking another term in 2018.  He described his relationship with Russia as 'more than just love', but said he tries not to become 'enslaved by contemplation' of his own popularity ratings; (Pussy Riot members say his soaring approval ratings are due to efficient Kremlin propaganda and citizens' general lack of information). Putin blamed the West for deteriorating relations since the Ukraine crisis began, vowing that Russia would not become internationally isolated as a result of sanctions; and shrugged off their effects, saying there will be no 'catastrophic consequences' for the economy – although many are expecting a recession for Russia next year, and capital outflow last month was nearly half the total for the entire year previous.  Former Finance Minister Alexei Kudrin sees the ruble weakening further over the next two years, albeit more gradually than in recent months due to its now having assimilated the effects of sanctions: 'The ruble has found its equilibrium.'  It's not just the ruble that is struggling – the property market is also struggling, with prices down an average of 20% in Moscow since the Ukraine crisis.  Foreign Minister Sergei Lavrov says Western sanctions brought against Russia in retaliation for its role in the Ukraine crisis are really an attempt to force regime change in Moscow.  The FT's John Thornhill says it might be time for the West and Ukraine to cut a deal with Russia.
TODAY: Putin warns the White House against supplying arms to Kiev; NATO concerned about increased Russian air activity; 'ceasefire' period sees 957 fatalities. Kudrin decries 'populist' economic policies; VTB faces nosedive in profits.
With U.S. Vice-President Joe Biden due to land in Kiev today, Russia's Foreign Ministry has warned Washington against any attempts to supply arms to Ukraine.  Some lawmakers have adopted a harsher tone, with Alexey Pushkov, the head of the Russian State Duma committee for international affairs proposing a 'Nobel War Prize' for President Barack Obama.  The UN's human rights watchdog has found that nearly 1,000 people have been killed during the Ukraine 'ceasefire' agreed at the start of September.  NATO jets have had to scramble 400 times this year in response to the increase in Russian air activity around Europe, of a scale not seen since the Cold War.  A report by the European Leadership Network has described the incidents as 'a highly disturbing picture of violations of national airspace, emergency scrambles' and 'narrowly avoided mid-air collisions'.  Following the first visit by a Russian defence minister to Pakistan since 1969, Russia and Pakistan have signed their debut military cooperation agreement.  President Putin has used his meeting with the Security Council to lambast 'illegal, uncontrolled migration', 'colour revolutions' and 'extremism', which he sees as 'a geopolitical instrument to rearrange spheres of influence'.  Foreign Minister Sergei Lavrov has announced that North Korea is willing to resume stalled international talks on its nuclear program. Read More »
TODAY: Putin seeks closer ties with North Korea, praises friendship with Hungary, offers a reserved welcome and warning to new U.S. ambassador; Lavrov says Kiev's withdrawal of support from east prepares the ground for invasion; VTB Bank profit drop; Russia's banking sector most vulnerable in all emerging markets; historic McDonald's branch re-opens.
Just after North Korea threatened to carry out a new nuclear test, Putin said that a deepening of political ties and trade with the country is 'definitely in the interests' of all parties; and he hailed Hungary as one of Russia's most important partners – a worry for Europe and the U.S. due to the pair's planned operation on the South Stream pipeline, says the Moscow Times.  But comments from an Italian minister about South Stream may indicate a policy change: 'It's useful infrastructure, but maybe it's no longer in the list of priorities.'  John Tefft, the new U.S. ambassador to Moscow, met with Vladimir Putin yesterday in a 'slightly awkward ceremony' as the former presented his credentials, marking the beginning of his new role.  Putin told Tefft that Washington must treat Moscow as an equal, and called for 'noninterference in internal matters'.  The New York Times interprets Putin as having 'softened his tone' for Tefft; the Washington Post says their meeting does not seem to herald a smooth ride for the ambassador in his new role.  Naftogaz may cut gas supplies to eastern Ukraine; Foreign Minister Sergei Lavrov says Kiev's cutting off of other forms of state support to violent regions in east Ukraine is 'preparing the ground for another invasion'.  He says the current conflict can be blamed on 25 years of Western policies of 'strengthening their own security at the expense of the security of others'.  Concert halls are supposedly being closed to those with anti-Kremlin views, part of the 'cultural rift' opening up over Ukraine.
Tagged Ekho Moskvy, Hungary, Italy, John Tefft, McDonalds, Naftogaz, North Korea, Russia, Sergei Lavrov, South Stream, ukraine, VTB
Leave a comment
TODAY: Putin says U.S. will never 'subdue' its rival; Russia asking Nato to make a promise over Ukraine membership; Nato warns of serious military build-up in Ukraine; EBRD, Finance Minister see imminent recession; new legislation to regulate offshore assets; Nabiullina and Putin defend ruble float; Sechin expected to pressure Opec; journalist to be charged over LGBT support website.
President Vladimir Putin says the United States wants to 'subdue' Russia, but vows that it will never succeed.  Putin's spokesman, Dmitry Peskov, says Russia is asking Nato for 'a 100% guarantee that no one would think about Ukraine joining Nato', because the alliance has made Moscow nervous.  Nato is warning of a 'serious' Russian military build-up in eastern Ukraine, and calling once again on Russia to pull back its troops.  The European Bank for Reconstruction and Development blames Russia's imminent recession on the Ukraine crisis.  Finance Minister Anton Siluanov says Russia will see a recession next year if the oil price drops to $60 a barrel and the West intensifies current sanctions; Economy Minister Alexei Ulyukaev painted a similarly grim picture of the economy at a Kremlin economic meeting last month.  Newly passed legislation will tighten reporting requirements for the offshore income of Russian citizens, making it subject to taxation for the first time, and possibly making Russian-owned, foreign businesses more vulnerable to pressure by bringing them under Russian law.  The new law is expected to hit hard in the business community, and to face strong opposition from individuals and companies alike.  Organic farmer Boris Akimov says food sanctions blocking Western imports to Russia have forced people 'to think more about where their food comes from'.
LONDON, 18 November 2014 – Defence counsel acting on behalf of Jewish activist Stephan Templ have denounced the recent conduct of Austrian public officials, arguing that their politically motivated persecution in this case constitutes state defamation.
According to international lawyer Robert Amsterdam, not only have prosecutors deliberately and repeatedly misinformed the media regarding the details of the case, but diplomatic staff including the Austrian Ministry of Foreign Affairs have also issued false statements distorting the court record. The fact that these misleading comments continued while the court was considering Mr. Templ's sentencing appeal represents a form of state defamation intended to damage the defendant's character and influence the legal outcome, says Amsterdam.
"Representatives of the Austrian government have improperly and incorrectly sought to defame and tarnish the reputation of our client by willingly distorting the court record," said Amsterdam. "This sort of Kafkaesque persecution cannot be justified in any rule of law state."
Mr. Amsterdam stated that if the Austrian government's attempts to intentionally mislead the public continue, that the legal team would be forced to seek out international condemnation of this misconduct by individual political figures and members of government.
Mr Templ, an Austrian citizen, has been sentenced to one year, reduced from three, in prison for "defrauding the Austrian Republic" following a restitution claim for a share of a 19th-century hospital in Vienna that was seized by the Nazis in 1938.
Mr Templ has been an outspoken critic of Austria's poor post-war record of returning art and property confiscated from Viennese Jews during World War II.
A 2001 treaty between the U.S. and Austria pledged the return of Nazi-looted property to owners and their heirs. Mr Templ was found guilty based on his failure to name his aunt in his application for restitution.
###
TODAY: Media giant linked to Putin allies; West provoking a Cold War, Putin says, threatens Kiev; HRW accuses Crimea of human rights violations; Merkel says Russia not likely to stop at Ukraine; Shoigu discussing military cooperation with China; inflation to reach 9% by end of year; German and Polish diplomatic tit-for-tat; Deripaska given head role at Rusal.
News agency R.B.C.'s efforts to construct the ownership of private media company National Media Group uncovered 'a litany of President Vladimir Putin's friends and allies, many of whom are under sanctions from the U.S. and EU over Russia's role in the Ukraine crisis.'  Speaking to German television channel A.R.D., Putin suggested that Russia is being provoked into a Cold War by the West; that the Western response to the annexation of Crimea was 'totally disproportionate to what had happened'; and warned that 'a catastrophe' would happen if Kiev continues to 'surreptitiously support Russophobia in Ukraine'.  Human Rights Watch accused Crimean authorities of serious human rights abuses against residents who opposed Crimea's 'belligerent occupation' by Russia.  The European Union decided not to impose further sanctions on Russia yesterday, but increased existing restrictions on individual separatists in Ukraine.  This piece says Putin's comments about the positive effects of European sanctions on aspects of the Russian economy indicate a belief that sanctions 'will force the Russian economy to evolve past its dependence on the oil and gas industries'.  German and Georgian leaders both say Russia is seeking to interfere in countries other than Ukraine across southeastern Europe.  Giving a speech in Sydney, German Chancellor Angela Merkel spoke out against Russia's involvement in Ukraine, warning that consequences would likely not remain regional.  The Foreign Ministry says the U.N. Human Rights Council's actions show 'a tilt towards the settling of political accounts' and 'groundless sermonising'.  John Kampfner says the pugilist reception of Vladimir Putin by Western leaders at the G20 should have happened much earlier.
TODAY: Putin leaves G20 summit early after attacks by various leaders, expresses hope for resolution of Ukraine crisis; 30,000 march in Tbilisi against Russian integration; Wikipedia not reliable, Russia to create its own version; Nato head says Russian bombers put civilians at risk; falling oil prices hitting hard; state-sanctioned sexism?
President Vladimir Putin left the G20 summit in Brisbane early yesterday 'after enduring hours of browbeating' by various Western leaders over his support for separatist rebels in Ukraine. Putin initially insisted that his early departure was due to the need to get some sleep, but it has been widely interpreted as a response to his frosty reception at the gathering.  Fyodor Lukyanov says the early exit was a mistake, correctly anticipating that it would be seen 'as a sign of stress'.  Putin's most spectacular confrontation was with Canadian Prime Minister Stephen Harper who, whilst shaking Putin's hand, bluntly told him, 'you need to get out of Ukraine', and then called him a liar.  The Times has video of U.K. Prime Minister David Cameron and U.S. President Barack Obama both slamming Putin in their summit addresses, as well as a clip of Putin's speech in which he expressed hope for a resolution of the conflict in Ukraine; but Putin also told German television that Russia will not allow Kiev to destroy its political adversaries in eastern Ukraine.  State-run Channel One claimed it has proof that MH17 was shot down by a Ukrainian government fighter.  30,000 people marched in the Georgian capital of Tbilisi over the weekend in protest of a proposed treaty between Russia and Abkhazia that would create joint military forces.  Russia is planning to create its own version of Wikipedia in order to provide 'reliable' information to its public, deeming the existing encyclopedia incapable of providing information 'in a detailed or sufficient way'.
Tagged Amanda Foreman, Barack Obama, Canada, David Cameron, Fyodor Lukyanov, G20, georgia, International Energy Agency, Jens Stoltenberg, MH17, NATO, pussy riot, Russia, sanctions, Sigmar Gabriel, Stephen Harper, Tbilisi, Tomer Ifrah, ukraine, Vyacheslav Tetyokin Elvira Nabiullina, Wikipedia
Leave a comment
TODAY: Putin in Brisbane for G20 amid criticisms of Russian aggression in Ukraine; President says the Kremlin is prepared for oil price slump. Pussy Riot take their prison campaign to London; politician hopes to legislate on marriage attire; concerns over threat to Arctic ecosystem; North Korea reaches out to Putin.
As Vladimir Putin prepares to head to Brisbane for a G20 summit expected to focus on Ukraine, he has announced that Russia is readying itself for a 'catastrophic' decline in oil prices which it will counter with $400 billion in reserves.  Andrew Wood of Chatham House believes that the real problem is that 'nobody' wants to invest in Russia.  Ahead of the G20, British Prime Minister David Cameron has called Russia's actions in Ukraine 'unacceptable […] It is a large state bullying a smaller state in Europe', a sentiment echoed by Australian Prime Minister Tony Abbott.  'It actually says more about Russia's weaknesses than strength that the former KGB colonel has atavised into a czar.'   Two Dutch F16 fighter jets, part of a NATO force, have reportedly intercepted a Russian Ilyushin transport aircraft flying near Estonian and Lithuanian airspace.  All of the Nordic states are apparently concerned about Russian 'brinkmanship'.  Although global concern over Russia's movement of troops into Ukraine is mounting, this has not prevented President Putin from being invited to Davos in January.  Read More »
TODAY: Kiev preparing for combat, Nato commander says troops flowing across Russian-Ukraine border, U.N. and O.S.C.E. anticipate full-scale fighting; Defence Ministry denies claims; China's energy billions boosting Russian bravado? Ukraine will have to buy Russian coal for winter; Memorial court hearing later today; independent news editor detained.
Kiev says it is preparing its forces for combat with Russia after Nato's top commander, General Philip Breedlove, revealed that Russian military equipment and combat troops have been entering Ukraine continually this week, and urged Russia to pull back its troops.  Breedlove made various statements confirming that the scope and aim of the Russian incursion is unclear, but the O.S.C.E. says the current ceasefire now exists 'more and more on paper' and is anticipating 'open confrontation'. The United Nations Security Council, too, is warning of possible 'full-scale fighting'; it met for its 26th meeting on Ukraine yesterday.  Russia's Defence Ministry sardonically denied Nato's claims: 'We have already stopped taking note of the unfounded statements by Nato's supreme allied commander in Europe.'  This piece says Russia's daring is thanks to 'billions in new energy deals from Beijing'; another says China's partnership with Russia will effectively 'bail out' the latter's oil industry, citing a deal under which China's National Petroleum Corp will buy a 10% stake in a Siberian unit of cash-strapped Rosneft.  However, Vladimir Yakunin, a close ally of Vladimir Putin, says Asia cannot replace the West as a source of financing, and that Russia needs to keep pursuing integration with Europe.  Ukraine will have to buy coal from Russia to get through the winter because conflict in its eastern regions has disrupted supplies.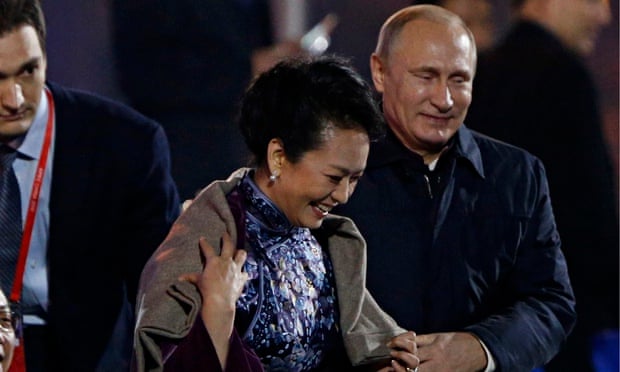 TODAY: Rosatom to build nuclear reactors in Iran; Putin's shawl gesture censored in China; Abbott talks MH17 with Putin; Kremlin snubs ECHR's request for election info; UNESCO site projects to go ahead; New Look pulls out of Russia; South Africa to commence Russian seafood exports; ruble resumes its slide; Olympic construction boss detained; Khimki former mayor charged with fraud.
News that Russia's Rosatom will build two new nuclear reactors in Iran – with the possibility of a further six to follow at a later date – has 'rais[ed] eyebrows' in Europe and the U.S.; the New York Times says the deal shows that Russia has 'its own vision for ensuring that Iran does not build nuclear weapons'.  President Vladimir Putin's 'gallant' gesture of offering China's first lady, Peng Liiyuan, a shawl during a chilly Apec Summit dinner has drawn speculation, particularly after video of the move was deleted from Chinese news websites by censors who found it improper.  Australian Prime Minister Tony Abbott met with Putin on the sidelines of the Beijing summit and asked him to consider issuing an apology for the downing of MH17; various sources have interpreted Putin's minimal interactions with U.S. President Barack Obama during the summit as frosty.  Russian authorities are snubbing the European Court of Human Rights' request for information regarding a vote rigging complaint about the 2011 State Duma elections in St. Petersburg.  German Chancellor Angela Merkel says no further economic sanctions against Russia are currently planned.  Two major construction projects in protected UNESCO areas will go ahead – in the Golden Mountains of Altai and Wrangel Island – despite the threat of sanctions and Greenpeace Russia's assertion that 'once developed, such natural sites never recover'.  British high street fashion chain New Look has pulled out of Russia and Ukraine citing 'political uncertainty'.